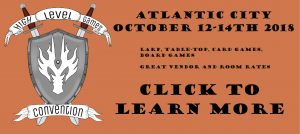 No one familiar with Keep should be shocked that this Blockbuster LARP caught our attention. In fact, if I wasn't involved in running a Convention in Atlantic City the month prior, I'd be all over the event. The Night In Question is a Sabbat focused Vampire LARP experience in the Nordic Style. That's a lot of jargon words slapped together in a sentence. So, we wanted to ask the creators of the event, especially Matthew Webb, to describe the game and describe how they are creating an immersive horror experience while ensuring player safety and consent are central to the experience. Mr. Webb and Jackalope Live Action Studios were involved with the amazing War of Our Own Charity LARP Event that happened in February 2018. These folks know how to work with heavy material.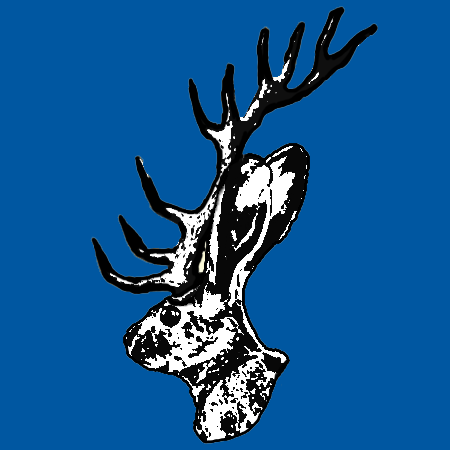 1 – Can you tell us a little bit about the premise of the game?
The Night In Question is set at an illegal rave outside of Austin, Texas during the late 1990s. Most of the characters will begin the night as mortals attending the party, but as the night goes on, it is revealed that the rave was a lure created by the Sabbat, for a mass embrace and blood feast as a prelude to an assault on the Camarilla in Austin. We're calling the general style "Texas splatterpunk", where we are emphasizing a visceral high-quality horror experience full of great props, buckets of fake blood and great physicality that really emphasizes the monstrous nature of the sect. It's something that we don't get to see typically in Vampire LARP – even those games which feature the Sabbat don't usually have the location or the resources to do a huge bloody experience.
It will run the night of November 17th, 2018 at a concert site outside of Austin, TX.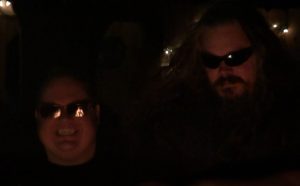 2) Why the Sabbat? Why Vampire?
I love the setting and the sect. I've loved Vampire: the Masquerade since my introduction to it in 1999, and I have been playing in Sabbat games since 2001. It is actually my favorite form of Vampire LARP, though I love playing Camarilla and Anarch games as well. The ritualism, the playing with shadows, the anti-hero aspects of the sect have always appealed to me. And how they served as a counter-weight to the Camarilla's hypocrisy by embracing their dark natures, and how they showed the problems that come from that.
It remains one of the most evocative and powerful role-playing settings, and it has influenced so many LARPers that it is really exciting to be working on something truly unique and new for a company whose products I grew up with.
3) How did getting an official license from White Wolf Entertainment to do this come about?
After playing and advising on End of the Line in New Orleans, the first bespoke-style Vampire LARP licensed by White Wolf, I became more involved with White Wolf's efforts to support these new blockbuster-style big games that took lessons from the Nordic and immersive style. I ended up developing the online tool Larpweaver for the amazing Enlightenment in Blood LARP at World of Darkness Berlin, and became good friends with several of the White Wolf staff. And that began the conversation that eventually led to The Night In Question.

White Wolf gave us the license because they loved the idea and the energy we brought to the table. They saw us as a group of American creators who loved their setting and had learned the lessons of the Nordic-style games, but also liked how we were bringing our own energy, and dare I say, swagger to the ideas. And when we said, we wanted to do Sabbat, they really leaned forward and wanted to know what we had to say.
I have to say, White Wolf has been incredibly supportive, and they took a chance with us as a young studio. It's going to be an amazing event.
4) Considering the source material, ensuring player safety and consent seems difficult. The Sabbat are a visceral horrific sect of vampires. Tell us about how you are creating an environment that allows you to tackle that material while ensuring all of your players are taken care of out-of-character? You've got a great list of dos and don'ts on the site, but how do you ensure players internalize these rules?
Safety is our number one priority. If players do not feel safe at our event, we cannot achieve what we want to achieve. We want a visceral physical event where people are immersed in the monstrosity of these creatures; not where they are worried that anyone is in real danger. This goes for being safe from physical harm, and being safe from harassment and violation of consent.
The event starts at noon, though the actual game does not start until sundown, because we will being doing player preparation and workshopping. We have a large conference space reserved near the game site, and attendance is required at our safety and consent workshopping. We're partnering with Participation Design Agency, who created both Enlightenment in Blood and End of the Line, to workshop and structure consent training.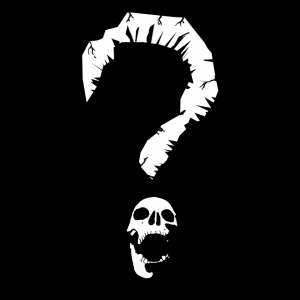 5) You've focused on the early edition version of the Sect, where the horror of what they are is more present. Are you tying in the religiosity elements of the sect from Revised at all?
Where we are planting ourselves with the Sabbat has been a very lengthy discussion. We actually ended up publishing two blog posts, the first outlining all the changes that the Sabbat have gone through and the second outlining our vision for them in our particular game. That was just to give our players a baseline, so we could all understand why so many people have so many different visions for the Sabbat. I have even called the sect the single most revised and constantly altered part of the World of Darkness.
The Sabbat always had a religious aspect, and the Revised Guide to the Sabbat struck an excellent balance. But as I spoke about in the blog, the trend became they were more and more religious fanatics and less reckless rebels and anti-heroes pursuing their own form of freedom. But the Sabbat always revered Caine as the founder of their sect, the Dark Father; but our Sabbat will see him as a role model, a hero, not as a god. But there will be dark rites and praises being said to him.
The phrase we are encouraging among our Sabbat will not be "Praise Caine", but "May Caine guide you." It's a subtle change, but an important one. Caine will be treated as a figure that guides a vampire to their pinnacle, like a guiding but harsh parent or a role model; not as a figure who wishes to be worshipped in the same manner as the Abrahamic God.
The Sabbat are ultimately ancestor worshippers. It's important to note that.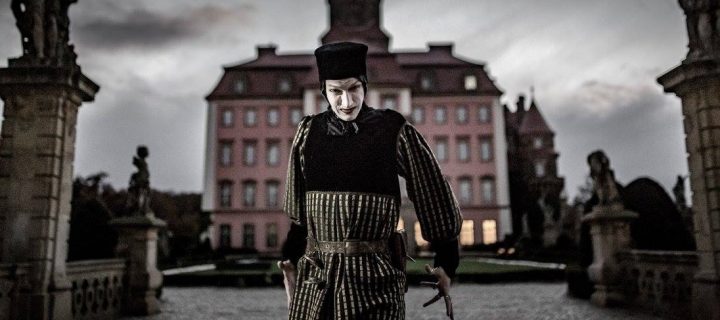 6) Talk to us more about calibration mechanics, physicality in LARP, and how your team is building out methods to do this well?
We have our official Jackalope signal guide up on our site (http://jackalope-larp.com/how-to-larp-hard-and-safe/), outlining the calibration methods we are using, but we will be going over them extensively before the game. In addition, we also have physical safety workshopping, including how to safely stage-fight and the like. Our special effects and environment teams are all veterans of haunted houses or similar events, so they know how to produce safe but terrifying experiences.
During the actual game, we have a team of safety monitors who will not be participating who will be patrolling the site constantly, who will be trained to spot situations, enforce the consent and safety rules, and are empowered to end situations at any time. I would not want to be on their bad side – they include two professional bouncers and an off-duty police officer – and they have zero tolerance for anyone messing with anyone else. In addition, we have a safety team with a dedicated email and contacts that can be contacted before or after the game with concerns at safety@jackalope-larp.com.
We want a physical experience. Once the night throws into high gear, I want to hear screaming, I want mortals falling to the ground being fed on in a frenzy. But I also want to know this is all safe play-acting by people who have been empowered with the tools to do it right.
The joke among our staff is that the relationship between this game and the European Vampire Nordic LARPs is like someone with a revving chainsaw kicking down the door of a nice cocktail party and screaming, "Let's do this!" And there's some truth in that.
We are foregoing the term Nordic, if only because it means too many things to too many people. and has a lot of baggage attached to it. Instead, we're using the terms bespoke and immersive, because it says clearly what we are going for. We owe a lot to the Nordic tradition, but the term has a jumbled history that makes us want to go for something more exact and less loaded.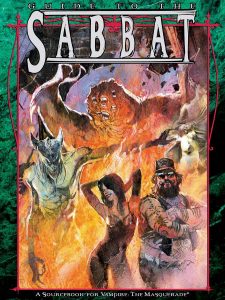 Saying we're American, we're the first completely American studio to do a World of Darkness bespoke LARP. And there's the setting, an illegal rave set among oil pumps in the backwoods , which is such a great image in American horror. There's this idea of rural America, especially Texas, being so large that you can be in the backwoods under the big Texas night sky where no one is around to hear you scream.
But beyond even that, The Night In Question is written with an outlaw cowboy in-your-face attitude. It is going to be loud, it's going to be unashamed and a little over the top. We're determined to have a lot of fun and make a mess while doing so. We're going to paint the walls red. And we're taking a bunch of different traditions and putting them together to make something unique and great that is truly our own. There's something quintessentially American about that approach to art and creativity, and it's a great part of our artistic tradition.
8) What is the goal of The Night In Question? Who are you trying to reach? What experience do you want your players to tell stories about for the next twenty years?
I want new players who've never seen the World of Darkness before to walk out having the most fun and blood-soaked night of their lives. I want veterans of the World of Darkness to walk away saying and thinking they've never understood the Sabbat truly until now. I want anyone to come – experienced or not knowing anything – and have a complete blast. I want there to be stories about blood-filled rituals, fire-ringed duels, savage double-crosses, sinister betrayals and hideous indoctrination.
I want everyone who was there, when they play Vampire from now on, to know exactly what makes these vampires scary and also, what makes them awesome.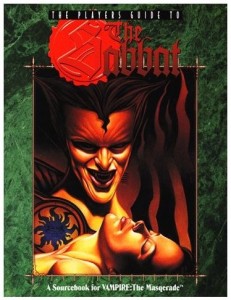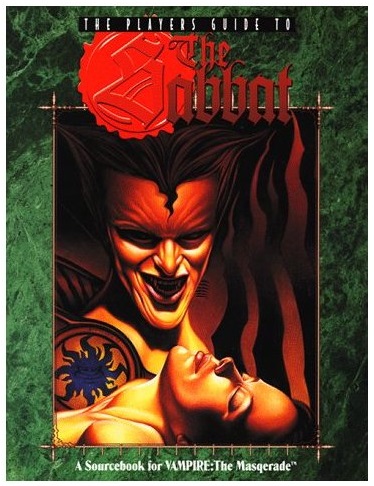 9) How do you make an event like this inclusive? Who do you have on your design staff that brings diverse world experience to this game?
You make it inclusive by rolling up your sleeves and doing it! It's not hard! You recognize talent comes from everywhere; you treat people like adults and don't patronize them; and you recognize everyone's input has value. You focus on being fair, circumspect and unwavering on the idea that no one should feel like a target at your games or in your community. And when you see anyone making anyone else into a target, a punchline or a punching bag – you put an end to it, right there and right then.
I don't need any toxic people dumping their sewage into my water supply. No amount of money is worth that. Any one person's well-being is more important than my LARP.
All three of our primary teams – safety, writing and art – are led by women or gender-fluid people. We recognized talent and we put them in charge. Each are one of the most talented, driven and incredible people I have ever met. Our contributors have backgrounds including LGBT, African American, Hispanic, Asian, Native American and more. Our team ranges in age from 20 to 62 years old. We're very fortunate to have amazing people working with us, and it's all the better by the variety of voices and backgrounds that have become involved.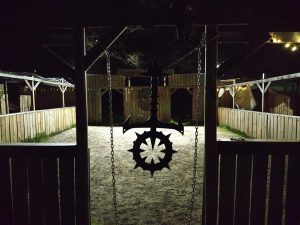 We've also removed themes that would do little to enhance our experience that would result in people of color or women feeling unsafe or uncomfortable. Sexual assault, homophobia, transphobia, sexism, racism, etc. are not allowed themes in the game. We're not making a game about those, and they add nothing, so they are out. We are already asking people to deal with a lot with the visceral and physical nature of this game. I'm not going to act like it doesn't add an additional burden to already underrepresented people in our hobby to allow those topics to be used as a cheap shock.
And I can't emphasize how much stock we put in our safety team and methods to make sure those who do not have the privilege of feeling safe by default – e.g. women, trans individuals and people of color – feel safe at our events.
10) What's next for Jackalope?
Bigger and better. We're already planning our games for 2019, and there are going to be some cool announcements on the horizon. This is certainly not going to be the last World of Darkness project for us. I want to do Werewolf, I want to do Mage, and I want to do other cool things with Vampire. But I can't tell you any distinct plans yet.
But our interest goes beyond that. We're fans of horror games, of science fiction, of historical drama and even just parlor art games. We have a dream team doing The Night In Question, and we want to keep doing more and pushing the envelope. We want Texas to be one of the hot spots for LARP in America and the world.
Please check out the Vampire products created by Joshua Heath on the ST Vault, he was the interviewer for this article.