Article is Reposted from High Level Games and Posted to Keep on the Heathlands with permission from the Author.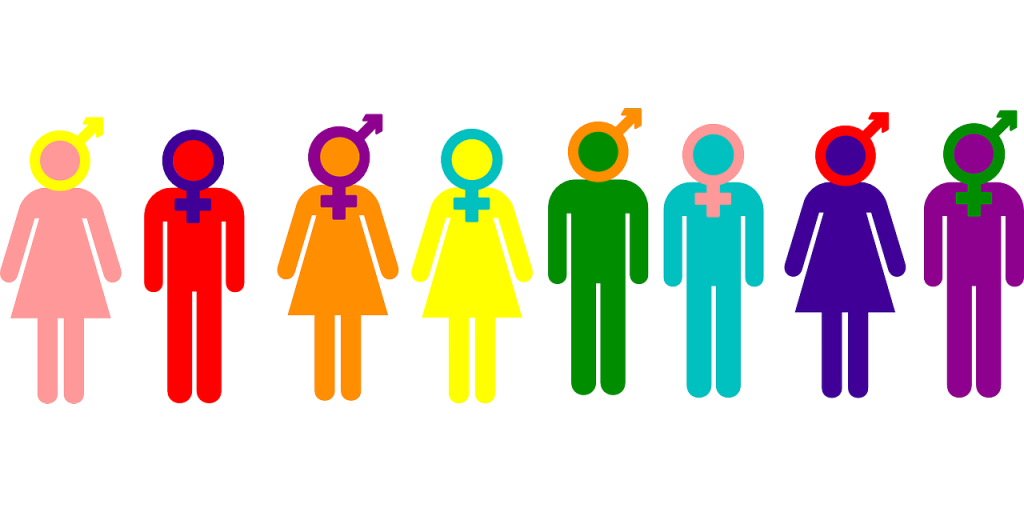 Since HLG is interested in promoting ways in which we can make gaming experiences more inclusive for all players, I'm here to teach you a thing or two about how to do that for LGBTQ folks. Step one is familiarizing yourself with terminology that's often used to describe gender and sexual orientation. As I'm sure you're aware, using the "wrong" terminology for a group of people can be quite embarrassing if you're the one making the faux pas, and cringe-worthy if you're a witness (think of grandma still referring to Asian people as "Orientals"), and pretty hurtful if you're a member of a marginalized group.
Intentionally or unintentionally using the wrong terminology for a person in casual conversation is called a "micro-aggression" – it still causes harm, but is less severe than, say, housing discrimination. However, a steady stream of micro-aggressions combined with the threat or lived experience of physical harm is like "very small drops of acid falling on a stone" (Brown, 2008). Each drop may not do much harm on its own, but further weakens the integrity of the stone to the next drop. Micro-aggressions also exacerbate pre-existing mental health problems in marginalized groups; and as many studies (Haas, et al., 2011; Mustanski, et al., 2010; Almeida, et al., 2008; Bostwick, et al., 2014) have shown, LGBTQ folks have higher rates of traumatic experiences (e.g. sexual assault, physical violence, other forms of discrimination) and mental health problems than heterosexual, cisgender people.
So if you care about your LGBTQ players, perpetuating micro-aggressions at your table is probably not the cool thing to do. If you don't, then perhaps go find another article. If you're writing LGBTQ characters, you want them to be believable, which means getting into their fictional headspace. But, the situation in the LGBTQ community is pretty much a minefield when it comes to terminology. So here's a fancy-pants guide from your resident queer lady gamer based off of American Psychological Association guidelines to help you through! Note: even after reading this article, you will probably mess some things up. The best course of action in this scenario is to make a brief apology and move on.
1). Use Whatever Terms and Pronouns Your Player Asks You to Use For Them.
If you're writing a character, it's probably best for you to use the "non-controversial" terms to describe them, especially if there's someone at the table who's LGBTQ. Read: don't use queer or other "reclaimed slurs" as labels for your NPCs/PCs if you're not of that persuasion in real life and LGBTQ players at the table haven't indicated whether they're cool with those terms or not. Having storylines around changing someone's sexual orientation without their consent using magic (I'm looking at you, Fire Emblem), or including tropey "predatory LGBTQ" characters probably isn't the best idea if your goal is to not perpetuate societal harms against LGBTQ folks in your games.
2). Dat Acronym:
LGBTQ stands for "Lesbian, gay, bisexual, transgender, and queer" but there have been some pushes to change it around quite a bit (either by making it a double "Q" to separately denote queer and questioning, an "I" for intersex, a double "A" for asexual and agender, and a "P" for pansexual). I affectionately refer to it as alphabet soup for this reason. Personally, I think it's fine as it stands, because transgender and queer are umbrella terms & encompass what people want to add. But, if you see the expanded version(s), now you know what these terms stand for.
3). Gender Stuff:
Now that we've covered what each thing in the acronym stands for, we'll unpack the gender stuff. Transgender, like I said before, is an umbrella term, and encompasses people who don't identify with the sex they were assigned at birth. So brief review; sex and gender are two separate, but related, things. Sex or "biological sex" usually refers to chromosomes, primary and secondary sex characteristics, and gender is the set of societal expectations for behavior that we place on people based on their perceived sex. People whose gender identity matches up with the "biological sex" they were assigned at birth are known as "cisgender," from the Latin "on this side of"; those whose gender does not match with their biological sex are called "transgender." These are often abbreviated as "cis" and "trans."
However, things with sex are not as cut and dry as you think they are! Occasionally, people are born with "ambiguous" sex; that is, they might have chromosomes of one sex, but the primary sex characteristics of the opposite sex. These people are known as "intersex." Even among non-intersex people, the things that "make" us one sex or the other can vary greatly; women with polycystic ovarian syndrome have elevated androgen or "male" hormone levels but we still consider them "women." The transgender umbrella encompasses people who want to pursue medical sex reassignment (sometimes these folks are called transsexual, but, this can be a loaded term for some), people who don't identify with any gender (also known as agender), and people whose gender identity fluctuates (genderqueer or genderfluid). Side note: use of the singular "they" is now back in vogue (shout-out to the OG Bard, Shakespeare for the use of this); if you're not sure of someone's preferred pronouns you can always refer to them by the singular "they" to avoid misgendering them.
4). Sexuality Stuff:
The term "lesbian" refers to women (both cis and trans) who are exclusively attracted to women. "Gay" refers to men, (both cis and trans) who are exclusively attracted to men. Gay is also sometimes used by non-heterosexual women to describe themselves, but this use is less common. Homosexual is a bit of a loaded term because the APA used this term to define same-sex attraction as a mental illness. Some folks don't have a problem with it and others do. Ask your players what they're comfortable with, particularly if their character shares their real-life sexuality.
"Bisexual" (with bi meaning two) refers to people of any gender who are attracted to both men and women, but not every bisexual person experiences attraction as a 50-50 split; some bisexual folks prefer women 90% of the time and men 10% and anywhere in between. "Pansexual" (with pan meaning all) refers to people who form romantic attraction regardless of gender; and developed as kind of a political response to criticisms of "bisexual" assuming that there are only two genders/being transphobic. Some bi folks just say that for them, bi means "two or more" genders. "Queer" is a loaded term for older folks in particular because it was the slur of choice during the early days of the LGBTQ rights movement. Younger folks are using this former slur as an umbrella term to encompass anyone who is not exclusively heterosexual/straight, people who don't like labels, and people who are still figuring things out but know that they're definitely not straight.
5). Ice-Cream Analogy:
"Asexual," like transgender, it's an umbrella term (also abbreviated as ace). If you think of sexual orientation as sexual preference, think of asexuality as sexual appetite. Or, in ice-cream analogy terms; I have preferences for mint chocolate chip and cookie dough ice cream, but will actively pursue eating ice cream in general because I have a stupid strong sweet tooth. Other people may not have an appetite to pursue eating ice cream, but if it's offered to them, they'll eat it. Some people will eat ice cream under certain conditions (must have rainbow jimmies or all bets are off), and some just don't like ice cream at all. Some asexual folks do not experience romantic or sexual attraction to anyone, regardless of gender. Other asexual folks may experience romantic attraction to other people, but not sexual attraction. Some asexual folks might only experience sexual attraction once they're in a committed relationship. Most of these identities are called gray or demi-asexuality (demi meaning partial). There's heated debate on whether or not to include asexual as part of the LGBTQ acronym but that's a can of worms I'm not going to open.
So there you have it! Your crash course is complete and now you can go off into the world armed with your SHINY NEW KNOWLEDGE!
FancyDuckie is a 20-something researcher by daylight, and mahou shoujo cosplayer by moonlight! She's also known to play murder hobo elven clerics with a penchant for shanking twice a week. Also known as "science girlfriend" of The Heavy Metal GM. When she's not chained to her sewing machine or doing other nerdy stuff, she enjoys watching ballet, musical theatre, pro hockey, and playing with any critter that will tolerate her presence. You can find her on Twitter, Tumblr, ACParadise, Facebook, Instagram, & WordPress.  
Citations:
Almeida, J., Johnson, R.M., Corless, H.L., Molnar, B.E. & Azrael, D. (2008). Emotional
distress among LGBT youth: The influence of perceived discrimination based on sexual orientation. Journal of Youth Adolescence, 38, 1001-1014. 
American Psychological Association (2012). Guidelines for psychological practice with
lesbian, gay, and bisexual clients. American Psychologist, 67(1), 10-42. doi:
10.1037/a0024659
American Psychological Association (2015). Guidelines for psychological practice with
transgender and gender non-conforming people. American Psychologist, 70(9),
832-864. doi: 4 http://dx.doi.org/10.1037/a0039906
Bostwick, W. B., Boyd, C. J., Hughes, T. L., & West, B. (2014). Discrimination and
mental health among lesbian, gay, and bisexual adults in the United States. American Journal of Orthopsychiatry, 84(1), 35-45.
Brown, L. S. (2008). Cultural competence in trauma therapy: Beyond the flashback.
American Psychological Association: Washington, D. C.
Haas, A. P., Eliason, M., Mays, V. M., Mathy, R. M., Cochran, S. D., D'Augelli, A. R.,
& … Clayton, P. J. (2011). Suicide and suicide risk in lesbian, gay, bisexual, and transgender populations: Review and recommendations. Journal Of Homosexuality, 58(1), 10-51. doi:10.1080/00918369.2011.534038
Mustanski, B. S., Garofalo, R., & Emerson, E. M. (2010). Mental health disorders,
psychological distress, and suicidality in a diverse sample of lesbian, gay, bisexual, and transgender youths. American Journal Of Public Health,100(12), 2426-2432. doi:10.2105/AJPH.2009.178319