What does belonging look like when you have the power to change yourself and the world around you? What happens if you think you have the power to change the world, but instead are bound by the rules of those around you? As a mage, how do you define your identity in relation to your power?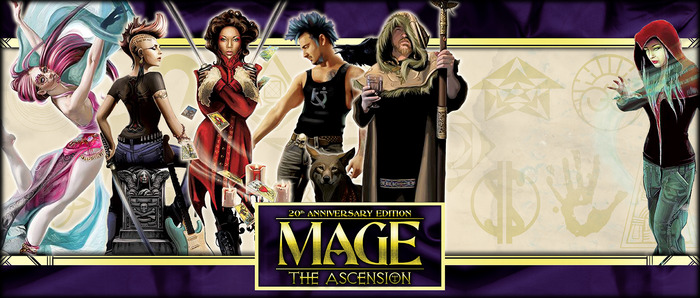 Mage is an amazing game for the way it weaves mysticism and philosophy into a coherent universe. However, at the heart of that universe the very concept of what reality is, is in question. What are Mages? We know that they are human beings by their birth, but what is the Avatar? Is this a symbol of immanent godhood or an individual separation from the forces of the universe? Is the Avatar really a separate force or is it something all human beings possess but few harness the ability to connect with? What if Mages are the broken ones? Perhaps sleepers are connected to one universal avatar and it is through this force that they sustain and contain the consensus?
Delving into Mage is a journey into answering some of these questions. Your players may not directly choose to address them, but these questions (and others) are woven into the fabric of the game. Mage is a game about power, what one does with power and how one interacts with oneself and others when they have gained such power. As such, Mage is a game about power and identity.
What is power?
Power is the possession of control, authority, or influence over others. Mage is about power because it is about control. When you have the ability to control the forces of the universe to your advantage you clearly have power. However, this power is hardly omnipotent. Mages are constrained. First they are constrained by their Paradigm, the way they understand magic and the way they understand how they can work magic within the constraints of the world. To me, these are slightly separate things. The magus that believes the world is a sequence of controllable effects may believe she has to work differently with those effects than another.
For example, the Hermetic Mage believes that there are fundamental principles to the universe. Unlocking those principles requires using the correct rituals, the carefully crafted sigils, pacts with otherworldly beings, and perfect and repeatable procedures that have worked for centuries. That Mage has to be tutored. An apprentice has to learn from his superiors, it is a part of the way they see the world. To gain proficiency requires experience, repeated attempts to enact effects, and tutelage in proper procedures. Their paradigm requires they use these systems, because that is how they believe the world works.
A technocrat may have a similar view of the underlying principles of the world. It is knowable, repeatable, and quantifiable. If I mix these chemicals together, in the right way, then this specific effect will undoubtedly occur. However, the way mages are taught to interact with the world is different. Instead of using sigils and markings upon goatskin, they follow procedures based on bio-chemical theory. They use heat, and chemicals, and fine needles and lasers with the intent of bringing new creations into existence.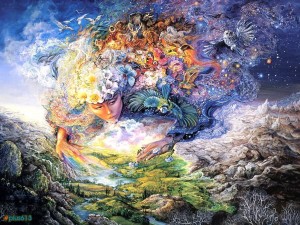 What does this have to do with identity?
These two mages would refuse to see a common identity with one another. The technocrat is working with methods proven by both enlightened and non-enlightened science. However, in the world of Mage we know that the only reason non-enlightened science has been taken as fact is because the majority of people in the world have accepted it as such. In this way, the Technocracy has the upper hand regarding both identity and power. The majority of the population accepts their paradigm (at least on some level) and this ensures they are more apt to be considered a member of a given society.
The Mage that uses virgin made beeswax candles to summon demons is an outsider to the world around them. These activities may be TRUE to the Mage in question, but they are untrue to others. This separates the Tradition/Disparate Mage. This separation will drive a wedge between the Mage and the other people from their culture. A Chorister may be an exemplar of the Faith, but they do so by joining a Divine Song that is untouchable by the lay-person. This can breed hubris and jealousy. The challenge for the Mage is to balance their drive and ability to use their power and to avoid separating themselves deeply from the world around them. Yet, we see in most games that Mages are a step apart from their surroundings. They separate themselves into Cabals, and hide in Chantries, Churches, Laboratories, and other places detached from their fellow man.
How then do we create Mage characters that want to be a part of humanity? How do we construct worlds that encourage the Mage not to think of themselves as better or separate, but simply a different type of person than those around them? We have to give them attachments, connections, interlocking relationships that bind them to their friends, families, and communities.  Of course, as we know, this will bind the Mage. This will prevent them from rising to highest orders of power. By connecting themselves they limit themselves.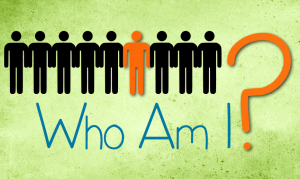 Do Mages Belong?
This is part of the drive to create the Traditions and the Technocratic Union and even the Disparate Alliance. These Mages want to belong with others that can support and empower the activities that they know they are capable of. However, as a group then they become distanced from the rest of humanity. They fail to see how they are just as intimately tied to the Earth and the cycle of life. By creating these communities Mages can reach for the stars. But, as they do they can also be scorched by the sun. This gives a young Mage the chance to challenge their elders. To drift skyward is to achieve greatness, but to build up the whole is to give everyone a chance to reach the sky.
Mages each have an element of their identity that separates them from those around them. This is a common issue for those with divergent interests, needs, or elements of their internal identity. In Mage, this identity separation has the consequence of power though. So it behooves the player and the storyteller to balance the hubris of power with the connections a person has to endure to be a member of society. At the same time, it is important to show that Mages feel different, not special, but divergent, radical, perhaps perverse.
Mages are liminal beings, living on the outskirts of society. They are the local wise witch that people would seek, but never welcome into the village. Even as these Mages live among humanity they are divergent, they are different, they are separate. How then does a Mage make themselves feel included? How do others remove them from the in-group and push them away from those more 'normal'? These are design elements that are important to consider for the storyteller looking to tell deeper stories in the Mage universe.
This article was written by Josh (he/him/his) and should not be construed to be anything but his random musings.