I was a backer of Lore of the Clans, a supplement for V20 and one of the stretch goals was Lore of the Bloodlines. I must admit I was not very excited for this book. Yes, there were various writers I liked that were going to write for it, but I found myself underwhelmed by a rehash of various bloodlines that had lots of information already in various books. How wrong I was.
First, the art done by Mark Kelly, Sam Araya, Felipe Gaona, Michael Gaydos, Key Meyer Jr. and Glen Osterberger, is freaking amazing. Seriously, I think this art compares to if not surpasses the iconic art of Tim Bradstreet. I know… that is a bold statement. See the image below.
Who's here?
Lore of the Bloodlines looks at 9 bloodlines from Vampire: The Masquerade. Those 9, in the order they are presented: Baali, Daughters of Cacophony, Gargoyles, Harbingers of Skulls, Kiasyd, Nagaraja, Salubri, Samedi, and True Brujah. As noted, most of these bloodlines have had a lot written about them in the past. I wasn't anticipating much that was new or exciting. From the Baali onward though, there were new plotlines, story hooks, and mechanics that changed my mind. The history of each bloodline is presented by new unreliable narrators. The Kiasyd are presented with a new history that ties them more powerfully to the Abyss (an element that has received significant investment in V20 materials, in particular V20 Dark Ages and Tomb of Secrets), as well as presenting a different story about their Fey connection.
You shouldn't take these stories as definitive, nothing in the WoD is a definitive history. This is another view point that you can use to add to your stories. That is the fascinating thing about the V20 books, they look at material fans are familiar with, turn it on its head, and present a view that doesn't discount anything previously written but it does adjust it in a way that makes you question The Truth.
Mechanics
Each bloodline has new merits and flaws that fit with their storylines. These bloodlines also have a new combination discipline or two, and potentially new versions of Elder powers. Each of these new mechanical elements is directly tied into the story hooks provided in the 'fluff' elements of each section. I particularly enjoyed the Salubri chapter because it tied in directly with some of the material from V20 Dark Ages. In fact, the way the Salubri are described in Lore of the Bloodlines is probably one of the best presentations of the modern iteration of the clan I've ever seen.
Part of me wants to give you a bloodline by bloodline breakdown, but I honestly feel like I would be taking something away from the book by laying out too many reasons you should purchase it. Lore of the Clans is a great book, and a fantastic complement to V20. Lore of the Bloodlines takes that model and does it one step better. It you've read everything on these bloodlines (as I have) you'll still gain a lot here. Seriously, this is my favorite supplement for V20 so far.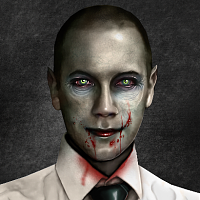 From an author
I asked Matthew Dawkins, known by many as The Gentleman Gamer, for a quote. He is the author of the Harbinger and Kiasyd sections. If you had one element of what you wrote you'd tell readers to look for, what would it be?
I try to seed plot hooks into every paragraph of my RPG content. Whether I mention an interesting character you can add to a chronicle, an event you can reference or take part on, obscure knowledge to cite, fables to make your in-character observations more authentic, or myths and treasures for your characters to pursue. Both my chapters will have plentiful options for you to take up, ignore, or just enjoy the reading of, as you make your way through the book. More than anything, I want people to read about Harbingers of Skulls and Kiasyd and want their next characters to be from those bloodlines, or want to set their next chronicles with a heavy involvement from one, or both odd lineages.
This book is now out in pdf and POD formats from Drivethrurpg.
Credits
Authors: Matthew Dawkins, Eloy Lasanta, Andy Peregrine, Neall Price, Eddy Webb, and Rob Weiland
Developer and V20 Line Developer: Eddy Webb
Editor: Jess Hartley
Art Director: Michael Chaney
Layout and Typesetting: Becky McGarity
Interior Art: Sam Araya, Felipe Gaona, Michael Gaydos, Mark Kelly, Ken Meyer Jr., Glen Osterberger
Cover Art: Mark Kelly
Josh is the administrator of the Inclusive Gaming Network, and the owner of this site. 
*Note, all opinions are the opinions of their respective Authors and may not represent the opinion of the Editor or any other Author of Keep On the Heathlands