Thank you for doing this interview. Those of us here at Keep on The Heathlands are pretty big fans of what Onyx Path Publishing have been putting together and Scion 2nd Edition looks amazing so far.
Neall: Thank you very much for taking the time to write out a few questions and for honoring me with some the interview!
Can you tell us a little bit of your history in the gaming world? What was your first game that you played, and what are you currently playing?
Absolutely. I've freelanced for Paizo, Green Ronin, and written fiction for Growling Door Games, but the bulk of my freelance career has been spent with White Wolf and Onyx Path. I worked on Exalted Second Edition, especially the latter half of the game line: I really cut my teeth on Abyssals, Infernals, and Alchemicals. After the second edition ended, I switched over to writing for Mummy: the Curse, Demon: the Descent, Mage: the Awakening Second Edition, and Vampire: the Masquerade.
The first game I ever played was a homebrew game by my long-time friend, after watching games of d6 West End Star Wars and Battletech all summer long at camp. The first actual game I played was Demon: the Fallen. I'd been a fan of White Wolf games ever since picking up Wraith in a second-hand store. That Demon game lasted maybe all of three sessions before the players caused a hurricane to destroy Miami, so we shifted to Exalted and played that for years.
Currently, I'm running a lot of Scion playtests…but I really want to run the Night's Black Agents' Dracula Dossier after my own games come out!
Scion is a game that touches on the mythological cycle, for those that are fans of Campbell we could say it emulates the Hero's Journey. How does Scion allow for stories that are told using that journey? Would you say that Scion is a universe like our own, but with a closer relationship to illio tempore ( Eliade's sacred time)? [This second question here is my religion and culture geek side showing]
We acknowledge Campbell as having a hero's journey, but we avoid The Hero's Journey totally for a number of reasons. Campbell tended to be a little reductionist, and definitely scanted stories involving women. So our Storyguide sections walk you through the earliest parts of origin myths, in Western, Japanese, and certain African styles (as examples). We tried very hard to detail different variants of a hero's journey through various cultures and provide heavily detailed insight and guidance for SGs, so players can take their Scions through a story that seems and feels like a true myth (but with more explosions). This also ties into the character's goals, destinies, and advancement in-game. The basic move is from innocence to experience (Origin to Hero), whether it begins with an error or with the loss of tranquility. Along the way, there are helpers, challenges, conflicts, and returns.
As to your Eliade question, to abuse a quote from my writer Geoffrey McVey, I'd say yes, in that Scion is a universe into which hierophanies irrupt in material form on occasion. (Alternately, "Yes.") The World is a place where the sacred is immanent and almost tangible.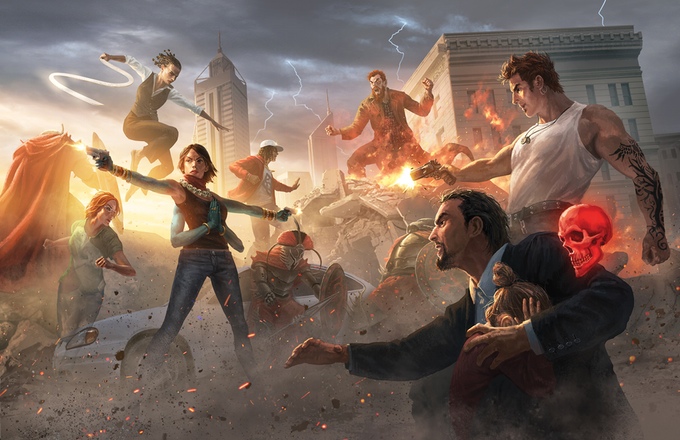 Can you talk about how the Pantheons have changed a bit from 1st edition to 2nd edition?
Pantheons were one of the big things we wanted to fiddle a bit with. They're no longer purely divine bloodlines, but socio-magical constructs within Fate that are bound to cultures across the World (our setting). Gods may belong to one (or more!) pantheons.
If there are cultural magics wielded by the Gods, and/or if the mythologies have distinct powers their gods frequently use, those go into a Pantheon Signature Purview, or PSP. In First Edition, this was a custom Purview, but in Second Edition they're far more broad, encompassing a lot of the "magics" wielded by the Gods and by others in that pantheon's mythos. Ideally, this is under a unifying theme that relates to the pantheons. This is why the Greeks are superior shapeshifters, for example, or why the Irish Gods revolve around having a geas.
Lots of pantheons have specifically-named groupings of three with mythical significance, or sub-pantheons and groupings contained within them. The Theoi up there contain two Triads, the (Greek names ahead) Olympioi, the Halioi, the Khthonioi, and associated sub-groupings. That's not even mentioning the Dodekatheon, the twelve most powerful and important gods of Olympus. So all of these pantheons have groups that relate to Paths, which players and Storyguides can further flesh out.
We definitely tried to broaden out the pantheons from First Edition. Several pantheons were renamed to reflect their broadened scope. The core list of pantheons includes: Aesir (Norse), Devas (Vedic), Kami (Japanese), Manitou (Algonquian), Netjer (Egyptian, formerly Pesedjet), Orisha (Yoruban), Shen (Chinese, formerly the Celestial Bureaucracy), Teotl (Aztec formerly Atzlanti), Theoi (Greco-Roman, formerly Dodekatheon), and the Tuatha de Dannen (Irish).
I wanted to cover every single pantheon that'd been done in First Edition, and we've done so and then some. The Nemetondevos and the Manitou (although that was a pan-Indian pantheon rather than a specifically Anishinaabeg pantheon) were both demi-canonical pantheons done by White Wolf's French translation company, but they'll both be in the Companion book that's been funded already by the Kickstarter. And, of course, a revamped Yazata and an Atlantean Pantheon that's used as an example of how to make your own fictional pantheons for use in home games.
The Kickstarter is funding 2 books, Origin and Hero. Tell us what the different books provide players, why do I need both of them?
Origin details the Storypath System, the narrative-yet-traditional rules that power the game, along with the "base setting": the World, where the old religions of pantheism never vanished, where people are rumored to be Scions of divinity, where creatures of Legend are hidden from the mortal eye in plain sight. It's akin to the wuxia concept of the Rivers and Lakes, where the two worlds of kung-fu and the peasants, nobles, and politics coexist in the same space yet remain very separate. We give you some pretty explicit guidance and some rules modifications for dialing your experience of the World up and down.
Hero details the full rules for Scion characters, but now they're fully-fledged heroes. Here, we fully introduce the pantheons, and all of the powers, divine weapons , and blessings that Scions can wield. We detail the golden, poisonous vitriol that flows through the veins of Scions once they've been Visited and their journey to apotheosis begins. Lastly, Hero's ST section (Director/Mythguide section, what-have-you) is greatly expanded, detailing different variants of a hero's journey.
We wanted to do expanded pantheons and greatly expanded rules, but we also wanted to cover lots of elements from First Edition (such as Terra Incognita) properly. Altogether, the combined book would be massive, so we decided to split for a number of reasons. This has a lot of benefits – if your players just want to pick up the system and read about the setting, they can buy Origin instead of buying both books (or they can buy Hero instead of Origin if they want lots of Scion character options!). Additionally, I really want to expand the World of Scion in future supplements, and not necessarily focusing on the Scions themselves. Creatures of Legend like satyrs and Valkyries and kitsune are playable right out of Origin.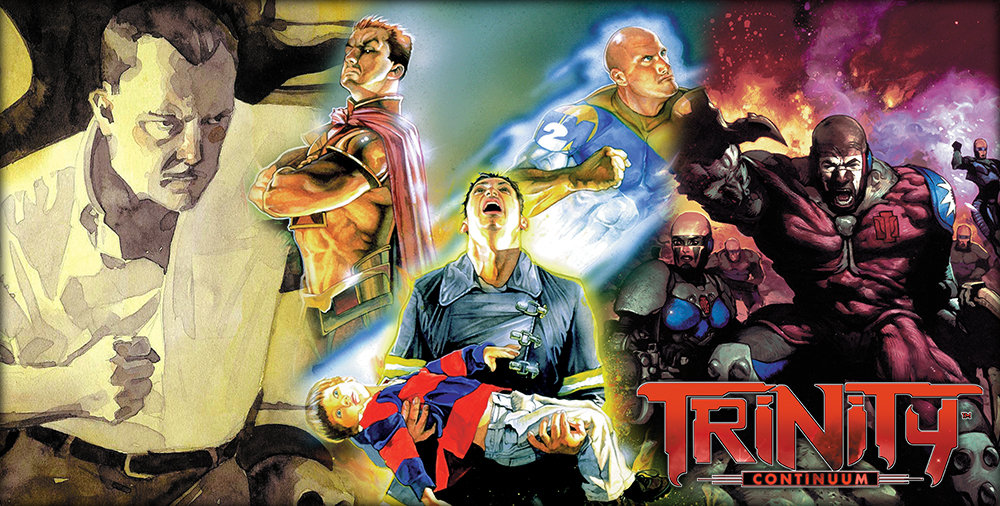 I'm excited for Scion, but I'm also excited for the Trinity Universe (Aberrant is still one of my favorite games). Anything you can tell us about that game?
Absolutely. Ian Watson and John Snead have done a fantastic job of making Aeon and Trinity really exciting and vibrant, and making that continuum exciting to play in no matter what the time period. Ian's unified the disparate elements of all three prior games and created a modern-day setting (it reminds me a lot of Fringe or Person of Interest) to play in that's equal parts optimistic and dramatic, making you feel like a big hero in an even bigger world. The most ingenious setting element they've solved is the constricting idea of predestination – that the Aberrant War is inevitable, for example – and the way they've tied that setting solution into mechanics like super-science and dramatic editing is just fabulous.
Like we had to on Scion, Ian had to make some hard decisions on Trinity, like pulling Daredevils out of Adventure! and putting them in as Talents, a hero type in Continuum core book. From everything I've seen of what they're doing, though, it's going to be a fabulous game.
We did a review of the Storypath System Preview, but obviously that is not the full system. Tell us a bit about the development of the new system. What elements have you particularly excited?
That'd be an essay and an interview in and of itself! It took nearly three years and several iterations. But I'm definitely excited about how the core system allows players to partially choose the outcome of both positive and negative rolls, how failure in dice rolls translates into bonuses later. And I definitely love the Paths – a system topic we use to replace the old set of Merits and Backgrounds and holistically describe your character in a way that ties them into the setting while still allowing you to bring in personal character details reactively and sometimes retroactively.
One of the core concepts of this blog is supporting inclusivity and diversity in gaming. Can you tell me how you see Scion and Onyx Path supporting those two elements?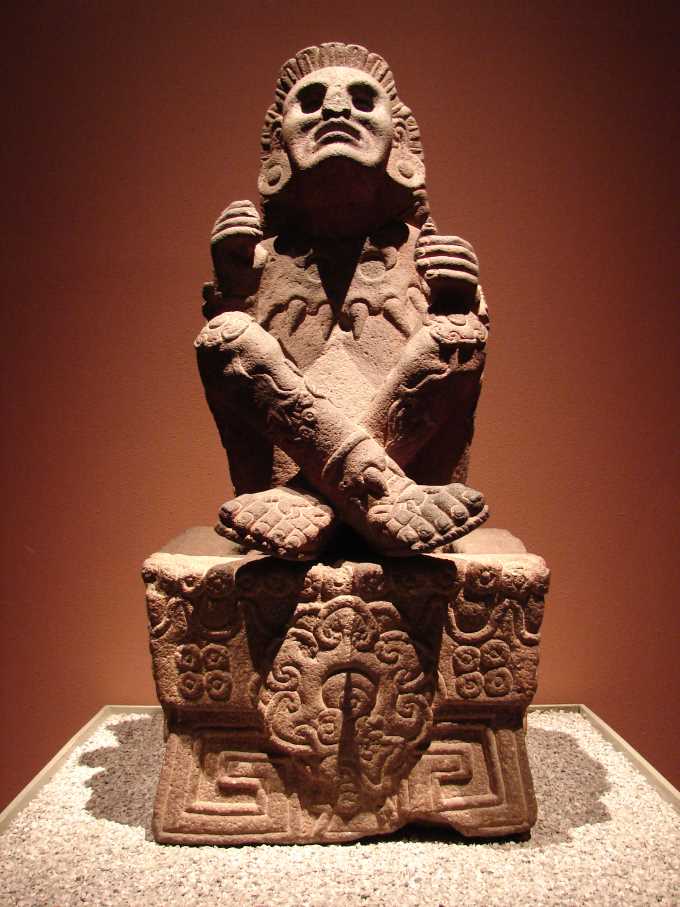 We try to approach this in both our writing team – by hiring writers of color, writers of various faiths and creeds, writers with differing gender and sexual identities – and in our games, as well.  The other way is through the game itself: the art, for one, but absolutely and especially the content. For example: the Te?tl pantheon in Scion 2e, the Aztecs, are going to include Xochipilli, the Flower Prince: God of beauty, dance, flowers, and patron of gay people and male prostitutes.
For the record, there are Gods (in the game and outside it) without gender, gods with multiple genders, gods who change genders according to how they feel. There are figures in myth who beg to be another gender (and who are occasionally granted that wish). Gods who are men who lust for and sleep with men. Goddesses who lust for and sleep with women. Gods who do both. Gods who are asexual. Gods who impregnate via inclement weather. If there are queer people, there are queer gods.
These myths are thousands of years old. They reflect the societies and the peoples from whence they came. That's what myths are – they express the story of a people. My team and I are proud to feature every one of them in game.
Is there anything else cool that you'd like to leak/share with Keep On The Heathlands?
What we've done with Fate is especially cool. In First Edition, Fate was tied to humanity. Humans were bound to Fate and couldn't contest the ebb and flow of the connections through their lives, save for some divinely-aided heroism, but humanity itself provided the necessary web for connections to form in the cultural consciousness. In Second Edition, Fate isn't something that "applies" to a Scion or a god, at least not truly. A Scion's actions ripple throughout the world, causing people to become bound to her destiny. Those ripples of her actions are Fate at work. These ripples are referred to as Fatebindings, and they're why Gods refrain from overt action, because doing so shakes up the ordered destiny of the cosmos in a way that begets problems bigger than the one the God was trying to solve in the first place. It's no longer "mind control" on a mortal.
So, when we looked at Purviews to use with this new conception of Fate, we cannibalized a lot of the old Magic Purview into a new General Purview called Fortune, used by Gods of luck and prophecy. I'll share the innate power and a Boon right here!
Fortune
The Purview of Fortune exerts its power through blessings and curses, manipulating that which mortals call chance and the Gods know as destiny. It exerts the subtle power of coincidence and synchronicity, contriving events and changing the World. It is not prophecy, but it can tug at the threads of fate to arrange improbable scenarios and enable deeds that defy belief.
Innate Power: You can sense the presence of Fatebindings when you interact with someone. If you later meet the other "half" of a binding that you have already sensed, you can tell the two characters are bound together. You can also sense when an Oracle or Sorcerer (p. XX) manipulates Fate with their Knacks or other powers, identifying them as the one responsible even if the effect cannot normally be perceived.
Fateful Connection
Cost: Spend 1 Legend
Duration: Instant
Subject: One character Fatebound to you
Range: Infinite
Action: Simple
You invoke the Fatebinding of a character tied to you to cause them to appear in the narrative and provide a benefit based on their Fatebinding role without it counting against the usual once per Episode limit (p. XX). Synchronicity arranges for that character to be near enough to arrive rapidly with a completely plausible explanation—maybe they're visiting their family, or stalking you, or their plane crashed.  If the Storyguide agrees, this can even bring characters into Terra Incognitae and other realms of existence (maybe they tripped through a portal).
Join us in thanking Neall for this great interview by checking out Scion's Kickstarter