Tell me if you've heard these before. "I liked Changeling the Lost so much more than Changeling the Dreaming because they got rid of all the childhood garbage."  "When I read Changeling the Dreaming, I turned and ran and never looked back." "Changeling's a fine game I guess, but it doesn't belong in the World of Darkness."
I have seen or heard every statement above when WoD players talk about Changeling the Dreaming.  I am a long time fan of Changeling, and specifically I am a long time fan of the horror themes inherent to the game.  In truth it can be the darkest setting in the line, but the themes are difficult to approach for a variety of reasons.  Some of those reasons are tied to how the game was developed, but some of the problems have to do with the perspective players bring to the game.
Changeling the Dreaming fundamentally speaks to a distinctly queer experience.  No, I do not think Changeling is exclusively queer, but I think the horror of the game is particularly resonant with the lived experience of queer gamers.  I do not know if this was intentional on the part of the developers, but I want to take some time to really dive into the horrors of Changeling through my experiences as a gay man, and how I feel these experiences show up in Changeling.
There are a handful of moments in my life that I think about when I think about Changeling.  When I was in 7th grade I was at the counter of a small kitch store with my mother in front of a cashier than I am now quite certain was a gay man.  A box of rainbow rings sitting next to the register caught my eye so I picked one up and asked what it was.  The cashier told me they were gay pride rings and I dropped them like my hands were on fire.  I don't know how the cashier responded (I can't imagine well), but my mother awkwardly tried to tell me I shouldn't react that way, while at the same time obviously not wanting to be angry because she wanted to cultivate empathy in me, not shame.  As much as her reaction was the right one, she didn't understand why I dropped them.  She hadn't spent years on the playground with me, and she didn't understand the fear of the slurs being true that only really exists when they are.  Until I finally started dating guys I never thought about that moment, but it lingered in high resolution in my mind.  Now it defines how I understand gay men before they accept who they are.
I had that dream again.  The one where I tower over all the bullies on the playground.  I'm also blue, with horns and . . . it's a weird dream.  I didn't have it while I was asleep though.  I had it on the playground.  Steve was getting it again for taking all the toys apart and trying to make them better.  Chuck was leading the chant, and it was the same insults the kids always used.  Geek, Dweeb, Tinkling Tinker, Queer.  My vision went red, my skin went blue and I swung.  I was huge.  I towered over them.  They couldn't possibly win. . . Except they did.
Steve and I both ended up in the dirt, filthy and bruised.  I got up first and tried to help him up but he smacked my hand and started screaming at me.  Why did I stick my nose in his business? They would have been happy to just scare him if he'd played along, and then I butted in.  His cheeks were red with tears and rage.  For a moment I saw two red spirals twirl out of the flush on his face.  I cringed back and closed my eyes, trying not to listen to him screaming.  I don't want to be this anymore.  I don't want to care about him.  I hate myself.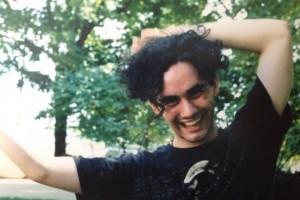 When I was in high school I fell for my first boy.  I mean, I'd crushed a few times before that, but I always found a way to convince myself it was something else.  I can't say we "dated" or that he was "my boyfriend".  His parents were Pentecostal.  That was just never going to happen.  Not in any way that normal people get to have boyfriends or girlfriends.  We fooled around though.  Did the sort of things 16 year old kids do with each other that their parents like to pretend "kids" that age don't do.  I loved him as much as a 16 year old is capable of coherent love.  It was messy though.  His relationship with his adolescent sexuality was complicated and capricious, and as hard as it was for me to accept liking boys because of the children I'd grown up around my entire life, I knew I could never understand what getting that from my family was like, so I was ok with it.
Then his parents found out.  Not about us specifically, but that he liked boys.  I wish I had learned about conversion therapy in a book or from the news in college like most people.  I learned about it from our mutual friends when I found out why he wasn't living at home any more.  I am forever grateful his parents never knew we had messed around, because when he finally got home after months "at camp" I was able to see him.  We joked about his stories.  Made fun of the idea of all the boys at this camp being forced to bathe together. They wanted to stop him from being gay right?  Clearly they were morons.  We didn't joke about the majority of what happened though, because he didn't talk about it.  He wasn't quite the same as before.  It wasn't until years later that I really wrapped my mind around what that "not quite the same" really meant.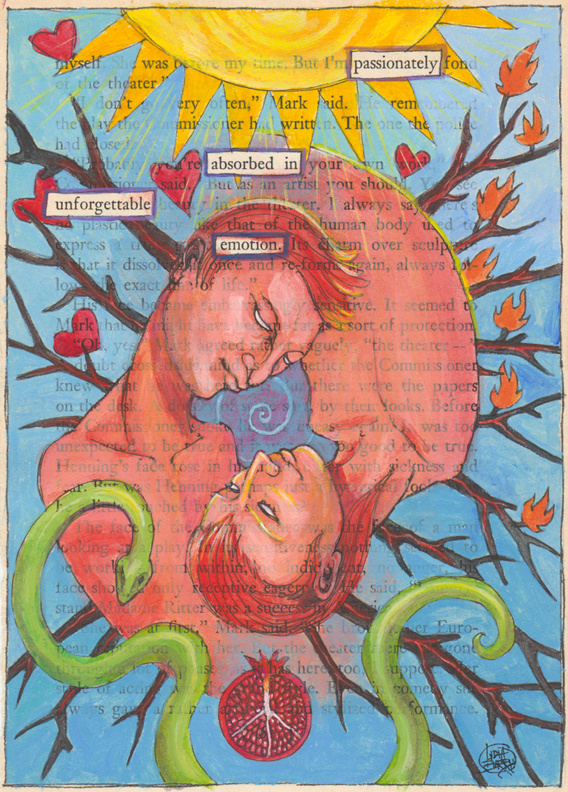 I sit in my dorm room thinking about Steve and Chuck.  It's been a long time since I traded blows with Chuck on the playground, but for whatever reason here I am thinking about it.  I know now I wasn't just dreaming that day.  I can be tall now, huge beyond measure, and Steve isn't just some kid who's good at putting things together.  I'm a Troll, Steve's a Knocker, and laughably enough Chuck's a Redcap.  He doesn't smell out other Changelings to torment anymore.  Now he eats the fear of the assholes who made him afraid enough of his blood soaked dreams to turn on his own.  I shouldn't relish the nightmares he dredges up in those wastes of skin.  I'm a seelie Troll.  I'm honorable, respectable.  Not every Autumn Fae gets a happy ending though and I can't help but think he's due a little payback.
Every other Troll in the court might shove their unseelie legacy down when it comes knocking, but I understand what that simmering hatred that locked me away from my chrysalis does to a person, and I understand what it drove Chuck to do.  So when he feeds, he's feeding for every Changeling he smacked around as a kid, and I savor his feasts almost as much as he does.  It's just one of those truths about being a fae in this world you don't admit in polite seelie company.
My phone chimes.  It's Steve.  He's back from his break with his family.  I can't wait to tell him what happened in court while he was gone.  It was an epic summer.  He's living off campus now, and I thought it was going to be awesome.  I'm standing on his stoop waiting for him to answer the door and I can tell something's wrong.  When the door opens I see what it is.  His face . . . the spirals on his cheeks that glow a deep candy cane crimson when he works are grey and dull.  His seeming is there . . . kind of, but I wish it wasn't.  The mists are kinder than whatever I'm looking at.  He's happy to see me, but everything is wrong, and I don't understand what's happening.  We go downstairs into his workshop and it's immaculate.  No knocker has an immaculate workshop.  He's building something and he sits down to start working on it again as if I'm not even there.  I watch him counting holes and rows on a prototype circuit board over and over again.  He's counting exactly 3 times before putting his circuits in and I uncomfortably lean over him and joke, "whatever happened to the kid who always knows where to put the wire?"
He looks up at me and smiles, "Yeah, I was a pretty sloppy kid wasn't I?  But after the work I did for my dad this summer I know that if it isn't perfect it isn't worth making . . . right?"  
Changeling's themes aren't only queer, but the horrors come into deeper, more vibrant contrast when you are.  The Nephandi of Changeling wear psychologists outfits and tell you you're wrong, and the hardest part is the people telling you to listen to them aren't motivated by some Wyrm tainted Bane curled up deep in their gut.  The people telling you to listen to them are your parents, and girlfriends, and family.  They are telling you to listen because they are afraid of you.  They are afraid for you, and most painfully they love you.  So they can't just sit by and not do something.  In the worst situations they are just like you.  They are victims of the world around them and that's the very thing that makes them so dangerous.  Most people don't understand that experience.  It's easy to see childhood silliness in Changeling if you don't look too deeply, or if you've never taken a knife to your own ability to love because you're more afraid of what the people in your life might think than the loneliness that haunts you.
I'm a gay man, and the words above are about my experience, but I will say I've seen these themes even more starkly and painfully when I hear my trans friends speak about their lives.  This rabbit hole is so much deeper than I can ever pretend to illuminate and for that I am uncomfortably grateful.
If you've ever found yourself saying Changeling doesn't belong in the World of Darkness, or that it's full of silly childhood themes, take a second and think about it a little more carefully.  I don't ask that you dive in and drag the horror out of the game.  It's a game after all, and no one should tell you what should or shouldn't speak to you. Instead of saying the game doesn't belong in the World of Darkness though, I just ask that you take a second to be appreciate why you weren't able to see that horror and be grateful it doesn't belong at your table.
Victor Kinzer has been roleplaying since he first picked up Vampire Dark Ages in high school.  He nabbed it as soon as it was released (he might have been lusting after other Vampire books for a while at that point) and hasn't looked back since.  He role plays his way through the vast and treacherous waters of north Chicago, and is hacking away at the next great cyberpunk saga at http://redcircuitry.blogspot.com/.  He is an occasional guest on Tempus Tenebrarum (https://www.youtube.com/channel/UCvNp2le5EGWW5jY0lQ9G39Q/feed), and is working to get in on the con game master circuit.  During the rest of his life he works in Research Compliance IT, which might inform more of his World of Darkness storylines than he readily admits.