I've been struggling to do this review. Not because of the reason you might think either. Dark Ages Companion is probably one of the best books I've read from Onyx Path Publishing. I've had to stop every paragraph or two to sketch out notes while reading this book. In the 2 weeks that I've been actively trying to get through it, I've had, at minimum, 10 chronicle concepts come to mind based on elements presented in this book. This book was developed by Matthew Dawkins, and I can tell you he and his writing staff did nearly everything right.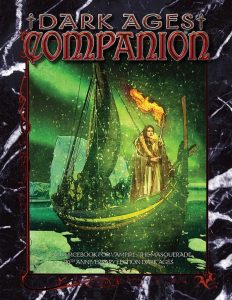 Lords, Lieges, and Lackeys
Dark Ages Companion: for Vampire: The Masquerade 20th Dark Ages is broken into eight chapters. The first six are various domains, most which have never been given a full treatment. The final two chapters are rules for building Domains and Dark Ages warfare. The final two chapters are an excellent resource for a storyteller that wants to dive deeply into these elements in their game. The Domain rules remind me of a more streamlined version of the AD&D supplement Birthright, and are effective if you'd like to include some elements of city/domain management in your games. These rules use Pooled Backgrounds as a baseline, and then go deeper. This is an excellent way of utilizing downtime and maturation rules in a way that doesn't cause large breaks in the story.
Chapter Eight gives some deeper rules on warfare. If you want to be more accurate in your portrayal of various weapons and armor these are the rules for you. If you'd like to keep things cinematic, the core rules for the game still work fine, and you can pepper these details in as you see fit. I'm getting this stuff out of the way first. Great two chapters, but the first six are more exciting.
Plot Hooks Abound
Rome, Bath, Bjarkarey, Constantinople, Mogadishu, and Mangaluru: these are the domains presented in Dark Ages Companion. There are enough plot hooks to construct at least 100 chronicles here. Each chapter provides details on key Cainites, key elements of the domain, and key plots, disagreements, and ways to get your player characters involved. The domains are also connected in subtle ways, with plot hooks linking them to one another sprinkled throughout. This is masterfully done, very little of these connections seem forced, they are nuanced, smart, and really intriguing.
Each domain offers something different in the way of scope. Bjarkarey is small, intimate, and highly aggressive. As is Rome, which offers an interesting counterpoint to Bjarkarey. Constantinople and Bath, both drastically different in size, offer more expansive exploratory plotlines. I haven't read enough of Mogadishu and Mangaluru yet to say what their full details will be like, but I can say from a quick look that they present a mix of large and small scale plot to throw your players into. Seriously, you'll have to work hard not to come up with some great story concepts after reading these chapters, they are excellent.
Problems In the Text
There are very few things not to like in this book. One thing I'm not sure of though are the creatures at presented at the end of three chapters. The Black Dog, the Kallikantzaros, and the Pishacha are presented as supernatural opponents which you can utilize in your game. These are local legends related to Bath, Constantinople, and Mangaluru, respectively, but I'm not sure that makes me want to utilize them. For a Vampire game, I've always tried to focus on the internal darkness which plagues the Kindred, and I often shy away from 'monsters' which to have the PCs encounter and challenge. That isn't how these are explicitly presented, but they do have a subtle hint of D&D encounters to them. They are there if you think they make sense for your chronicle, use them if you think it will add to your story.
The second thing I was frustrated with is a relative historical quibble, and I'm going to explain what bothers me about it. In the chapter on Bjarkarey, there are a few mentions of blood purity and rugged individualism. Neither of these concepts is historically true to Norse culture, at all, and I find their presence here frustrating. The Norse were intensely communitarian, as you would have to be if you lived in some of the most hostile climates in Europe. The concepts of blood purity were developed by the Spanish during the Reconquista (1400's) and would have been bizarrely strange to the Norse during the 1200's. As a student of Norse history and a follower of Germanic religious traditions, these elements bother me. They speak to a narrative that far-right elements in society attempt to latch onto, and though they are fleeting in this text, their presence is annoying.
All in all, this is a good chapter on a culture that was still having some inter-cultural conflicts between Pagan cultural holdovers and Christian religious dominance, and it is not badly written. In fact, it's really well developed and I immediately find myself excusing the things that bother me.
Buy this book. One of my favorite White Wolf books of all time is House of Tremere. I'd give that a 10/10 rating in a heartbeat. Dark Ages Companion is easily a 9/10 book. If you ever plan to play a Dark Ages game of any edition, you should own this book. The art is amazing, the writing is fantastic, and you'll have a ton of great ideas come to mind while reading it.