From the Vault: Torg: Roleplaying the Possibility Wars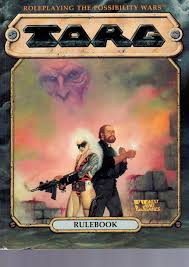 This week we'll be going off on a bit of a tangent. I will be highlighting one of my favorite RPG's from "back in the day." This idea struck me as I saw both Jack Benners  Savage Worlds article and Jim's Deadlands articles.  With the multitude of RPG's out there, it is easy to lose track of what has come before. During the 1990's a multitude of games would hit the markets. Some would be huge (Vampire: The Masqurade) some would cause controversy (Kult) and others would find a niche following that blossomed into cult status.
One of these later titles was TORG. TORG was originally an acronym for The Other Roleplaying Game. It was originally a tile used by the in-house development team. TORG was published by West End Games and came in a box set with the rulebook (pictured above), an Adventure book, and a Worldbook. As of 2016, Torg is under license to Ulisses Spiele. Plans for this new version of Torg will be released under the name Torg: Eternity. I am excited to see this updated both in rules and setting of the game.
The Setting
TORG is a pan-dimensional setting where different realities have invaded various parts of the earth. Per the cosmology of TORG, there are different cosm's and each cosm is separate from every other cosm. That was until The Nameless One created different darkness devices. The Nameless One gave these darkness devices to different High Lords. Each High Lord has their own Darkness Device, each one different in design but all are Made of an obsidian material. The function of the Darkness Devices was to allow the High Lords to access the different Cosm's and capture the possibility energy of each world.
When used to invade other cosms the darkness devices would open up gates leading back to the invading cosms home and begin to influence the invaded world changing it into a mirror of the invaders world. Thus a low tech, high magic cosm that was invading a high-tech non-magic cosm would find that their guns didn't work most of the time, while the invaders had access to spells that worked, giving them an advantage.
Of the High Lords to get a Darkness Device one of the most prolific was The Gaunt Man. He is the High Lord of Orrosh, a Gothic horror realm with a Victorian setting. The Gaunt Man had successfully overtaken dozens of other cosm's. Then he came across  Earth. What he found was that that Earth contained more potential than any other cosm he had previously discovered. He knew that he would not be able to take Earth alone. He set out to make deals with other High Lords and together they invaded parts of the Earth draining it of its possibility energy. The following are the starting realms for the game:
Core Earth– This is "our" Earth. This is the basic reality. Core Earth had slightly better tech than what one could find in the real world which also included access to faith based miracles and magic. To start, Core Earth had no High Lord, however the United States government was ruled  by a shadow cabal known as the Delphi Council.
Living Land – This was a Lost World style realm. Jungles, dinosaurs and low to nonexistent magic ruled this area. Centered in the United States on both the East and West Coasts, and a bit of Canada, this realm was ruled by humanoid dinosaurs. At the start of the game it was ruled by the HIgh Lord  Baruk Kaah. His darkness device was Rec Pakken, a large copse of trees.
Aysle – This was the "D&D" fantasy realm with high magic and low tech. It was centered in the United Kingdom. At the beginning of the game it is ruled by Uthorion in the body of Pella Ardinary. His darkness device is Drakacanus, a large crown
The Cyberpapacy – This was a cyberpunk setting messed with religion. Centered in France, it is ruled over by the Cyberpope Jean Malreaux I. Originally, a realm of jazzed up churches and religious artifacts it melded with a virtual reality on it's way to invading earth giving way to the VR know as the Godnet.. Jean Malrequx's darkness device is Ebenuscrux, a glowing cross both in reality and as a VX presence in the GodNet
Nippon Tech – This was an ultra-capitalist realm centered in Japan. Ruled over by 3327. This realm blended in so well at first that core Earthers didn't realize what was going on until it was too late. 3327's Darkness Device is Daikoku, a laptop computer
The New Nile Empire – This was the pulp hero realm ala Indiana Jones. Centered in Egypt it was ruled over by Dr. Mobius. Known for high tech "gadgets". Dr. Mobius's Darkness device is Kefertiri, a crocodile-headed idol.
Orrosh – This was the Victorian horrors setting. The name itself is an anagram of horrors. This realm was centered in Indonesia and ruled over by the Gaunt Man. The Guant Man's Darkness device is Heketon, a stone heart
What made it different
Torg had a lot of things that set it apart in the over saturated market of the early 90's. Among these were a ambitious living campaign, the multi-genre setting, and an innovative rules system including a drama deck of cards used in combat.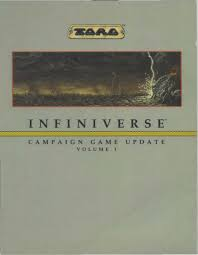 Living campaign
Torg attempted to do a living campaign right from the outset. Included in the original box set was an infiniverse guide explaining the state of the world and a form that players could mail into West End Games to let the publisher know how the players did. This in turn would influence the ongoing plot of the game world.
This was very ambitious in scope. So much so that while the Infiniverse campaign updates, one of which is pictured above were done throughout the run of the game. The idea of mailing in your updates fell off after about the first year.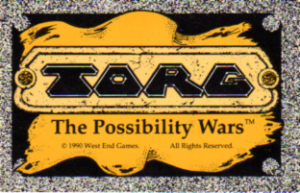 The multi-genre setting
As covered above Torg had a very interesting setting that allowed for "cinematic style" games .Being able to play a magic slinger next to Doc Savage and do battle in a vampire crypt was great. No other game at the time (to my knowledge) was doing this.
Innovative rules system
Torg's combat system was very interesting. For most conflict resolution you would roll a skill and look to hit a particular difficulty number. You would compare the number you rolled to a chart printed at the bottom of all character sheets. This number would be your bonus to your role. In addition to this if you rolled a 10 or a 20 you rolled again adding the rolls together. This is a mechanic that many games are implementing these days from AEG's Legend of the Five Rings roll and keep system to Chronicles of Darkness exploding 10's.
For me though, the best part of Torg was the drama deck. This was a deck of cards that were used in combat. It dictated many different things. From initiative to actions you could take, and even special plot points for characters to pursue.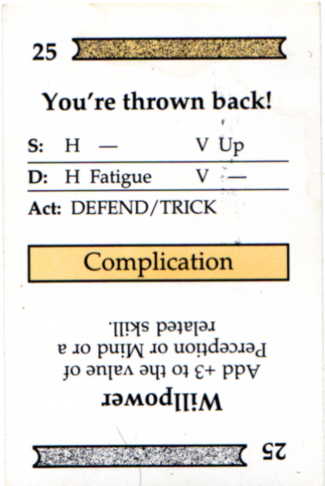 This is an example of the a card one would get from the drama deck. The Orange top boarder was used for the GM. It told him what actions were available. The Grey side was for the PC to use. At the start of a session each player would get five cards. These could be used both in and out of combat.
The box set came with a set of drama cards and subsequent sourcebooks had more cards released with them. The drama deck assisted in bringing in the cinematic style of gaming Torg was aiming for.
Drawbacks
Torg did a lot right. The setting was compelling, the system as originally released was solid and different. The living campaign was ambitious and something not  done in pen and paper RPG's at the time. That all being said, the game was not without its faults.
Chief among these were the lack amount of quality control with regards to the system. As the game line progressed core systems introduced in earlier books (including the original boxset) were thrown out and replaced with new rules sets and those in turn would be glossed over or simply ignored in other supplements.
The other two big issues Torg had to deal with were cross over ability between cosm's and overtly anti-Japanese and anti-Catholic sentiments. The crossover ability stemmed from lack of support in published adventures and sourcebooks allowing for overtly customizable characters. For example, a pulp hero from The New Nile Empire that also had cypertech and knew how to cast magic would be left having to  house rule almost every aspect of their character.
The concern over anti-Japanese sentiment was raised due to the portrayal of Nippon Tech and the perceived view of Japan dominating U.S industries during the late 80's and early 90's. With the Cyberpapacy, perceptions were that the game had a anti-Catholic slant as well. West End Games did state that was not the intention behind either of these settings, however they continued to release product that many found distasteful.
In Conclusion
Torg was and is very entertaining. The overarching storyline still gives me ideas and I find myself wanting to try and run the entirety of the gameline. With the use of a very fun combat system in regards to both dice mechanics and the Drama deck the game moved very smoothly and upheld it's cinematic style.
Even it's faults from system, to tone to anti undertones of certain races or creeds can be seen as a product of the time they were a part of. This is not to say they are okay. Part of inclusiveness is the bad as well as the good. Torg's cannon characters included a Priest that fought against the High Lords for example. The evolving rules perhaps could have been better suited to a full new edition. A 1.5 edition was released in the late 90's though it didn't make much impact nor did it fix many of the storyline issues.
Scott is a true analog gamer doing everything from pen and paper RPG's to board games and everything in-between. He started out with Advanced D&D 2nd edition at the age of 10. From there he likes all genres and types, from the well known big names to smaller indie print publishers. Scott is Vice-President of The Wrecking Crew
*Note, all opinions are the opinions of their respective Authors and may not represent the opinion of the Editor or any other Author of Keep On the Heathlands.