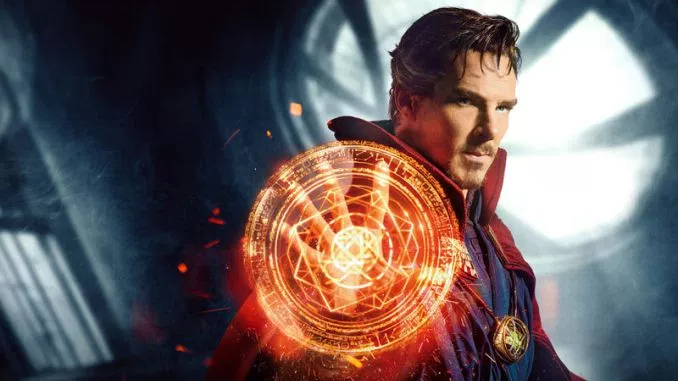 No, don't worry, there are no spoilers in this article, however, with the release of Doctor Strange it got me thinking about the ways that magic is portrayed in our hobby and what I like and don't like about different magic systems. What makes a good magic system vs a bad magic system? Even more so, what is the evolution of magic in the hobby? There has been a lot of growth from the early days of 1st ed AD&D to modern day games like Savage Worlds or FATE.
For myself, I have always gravitated to the magic user in RPG's that offer them as a class option. For me, it was a mix of describing the awesome effects of the spells and also the system that was used for magic.  Some systems are very complex and involved with rigid lists and names and others, very loose allowing for endless customization with an easy open system that ended up being complex far beyond what I thought was possible.
Looking back on my years of games, there are a few standout games that really made me rethink what can be done with magic. For me, these games are in order: AD&D 1st and 2nd Edition, Shadowrun, Ars Magica, TORG, Mage: The Ascension 20th anniversary edition, and FATE Core. This is the order I was introduced to each of these systems, not the order they were released. Nonetheless, each of these systems showed a new and exciting way to implement magic. AD&D of course, was the granddaddy of RPGs, as it came out of miniature wargaming, specifically Chainmail, which itself included two Wizard spells in it's second edition.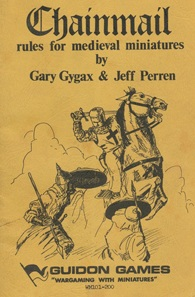 In fact, Dungeons and Dragons started as a Chainmail variant. I found it very interesting that Chainmail, and D&D by extension, were heavily influenced by Tolkien with such a rigid rules set that didn't leave much room for variation. In my youth, I read the entire Lord of the Rings trilogy, including The Hobbit, every year from 5th grade until I graduated high school. With such a love for Mr. Tolkien's work AD&D was a big deal and I found myself wanting to devour any book I could get my hands on.
Of course, while I read these books hungrily in my early days, it was not much of a game when we did play.
GM: What do you want to do?
Me: I want to go to the bar!
GM: Okay you're at the bar.
Me: I ask the bartender for a quest.
GM: Okay, he asks you to find a mystical magical sword.
Me: I accept
GM: Okay you are now at the cave that has the sword.
Me: I go in.
Etc, etc, etc.
All this talk of magic, and after looking back through my books, got me really looking at how magic is used in RPG's. This in turn led to many hours spent reading through different editions of many books and really taking a hard non-biased look at their different magic systems. So, over the next few weeks, I will look at different game lines and look at how magic was used. Both good and bad points of the magic systems will be listed and an overall history will be given of the systems covered.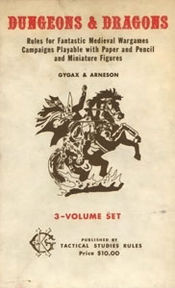 We shall start AT THE BEGINING with Chainmail. Where there other RPG's before this? Why, yes. However, most of these were Fantasy Wargames and not commercially available. From an "RPG" viewpoint, Chainmail is the first, and even then, most would point to White box D&D as the first true pen and paper RPG, as we know them today.
Without Chainmail there would be no D&D. Back in 1968, Gary Gygax saw a game of Siege of Bodenburg being played at the very first Lake Geneva Wargaming Convention (Gencon). Siege of Bodenburg didn't include any magic, however, it revolved around two players using 40mm Elastolin miniatures played on a 6×6 board. Gygax inquired about purchasing these figures. This led to many different rules revisions over the next few years. The chief among them being the new ruleset that Gygax and his partner Jeff Perren created and published in their Castles and Crusades Society fanzine The Doomsday book.
All of the work that was done fine tuning that ruleset brought Gygax and Perren to the attention of Guidon Games. Guidon hired him to create a ruleset for a new gameline they wanted to release.
One of these three games would become Chainmail.
As noted above, Chainmail included two magic spells in its second edition, which was released in 1972. It also covered magic armor as well. The rules for the game were straight forward overall, just rolling and consulting charts to see what hit and what didn't. Not complicated at all, really.
Humble beginnings indeed.
Pros and cons of Chainmail:

Pros
It helped to give us D&D
Simple system (if you can call it a magic system)
Cons
Non really. I mean it's not a "magic system" per say.
It was in 1972 however, that TSR product designation 2002 was released and gaming was never truly the same ever again. D&D had arrived. D&D's magic system draws heavily from The Dying Earth series of stories by author Jack Vance, in particular, the notion that magic users could only memorize so many spells per day and once they used them, they forgot them. In fact, the style of magic is referred to as Vancian magic. Looking at the Wiktionary definition of the word it fits perfectly with what the D&D magic system does:
Vancian magic: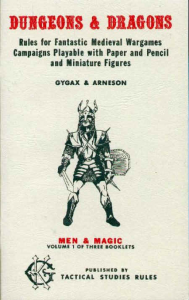 Noun:
White box D&D (as it is called nowadays) was a collection of three books:
Men and Magic

The first of the three books included in the white box are where magic spells are listed. The classes, all three of them;  Cleric, Fighting-men, and Magic User.The races listed were Human, Dwarf, Elf, and Halflings. Only three alignments were given: law, chaos, and neutrality. While the magic user does have magic spells they were handled very differently. Magic users max out at 6th level while Cleric's max at 5th.  Spells used a spell slot and the defender got to make a saving throw. Overall, the game took it on faith that the player owned a copy of Chainmail and used those rules. However, an "alternate system "was given in the appendix of the book for dealing with combat, roll a 20 sided die and compare to a list of AC values. If it hit, then roll 1d6 for damage. That's it!
Monsters and Treasure
The second book covers well…monsters and treasure. Of note for this blog, are the magic items. The Flaming sword and Brazier of Controlling Fire Elementals were introduced in this supplement. Dragons were here, as well with alignments as we know them today.
The Underworld and Wilderness Adventures
Lastly, this book was divided into two parts. The first one provided details on designing dungeons and even included the first published dungeon with multiple levels and wandering monsters. The other half of the book detailed running games outside of the dungeon and even suggested the use of Avalon Hills Outdoor Survival game from 1972.
Together these three books made up the white box and the first iteration of D&D. There were further supplements, notably Blackmoore and the original Greyhawk setting. These introduced further information. Like in Greyhawk, supplement spells for 8th and 9th level for Magic Users and  6th and 7th level spells for Clerics were introduced.
Pictured below are the spells for both Magic Users and Clerics.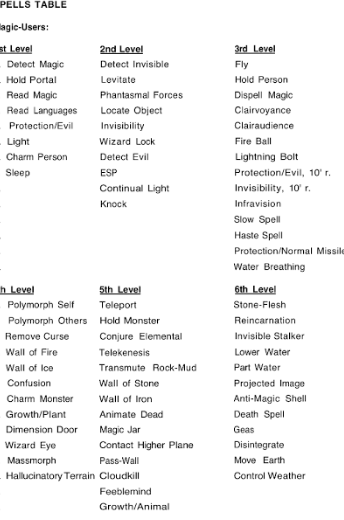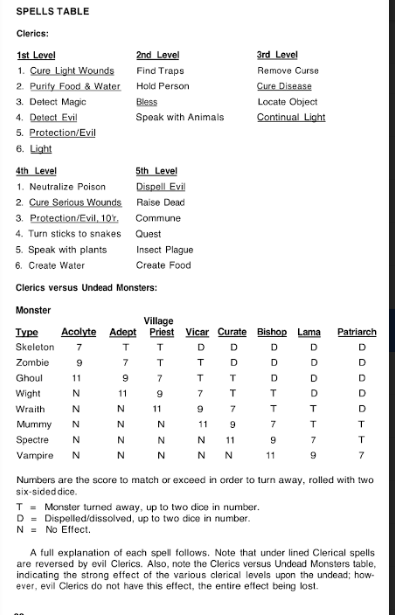 From the table above, one can see that early lists included a lot of staple spells that have become  household names that everyone knows today. An interesting point to note, there are rules regarding "evil" clerics. I like that, even in these early days, there was this sense of good vs. evil built into the game world. Knowing that some of your spells would not work due to a "balance" of a "force" makes me happy.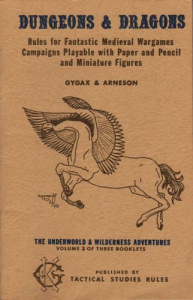 Pros

A bit on the complex side however the system's staples were here.
Tables? It has tables. Lots and lots of them!
Cons
Spell lists. Customizing was not something that was done during this edition.
Tables? It has tables. Lots and lots of them!
Next, we'll look at First Edition AD&D
Scott is a true analog gamer doing everything from pen and paper RPG's to board games and everything in-between. He started out with Advanced D&D 2nd edition at the age of 10. From there he likes all genres and types, from the well known big names to smaller indie print publishers. Scott is Vice-President of The Wrecking Crew
*Note, all opinions are the opinions of their respective Authors and may not represent the opinion of the Editor or any other Author of Keep On the Heathlands.