I started role playing back in the mid 90's when AD&D was struggling a little bit, but the World of Darkness was just hitting it's boldest strides. It was an era where my local game store, in my relatively small hometown had 2 incredibly tall book displays just for role playing books. Shortly after I started role-playing D&D 3.0 came out and it felt like, just maybe, RPGs were going to be the next big thing.
Now, if you're reading this blog there is a good chance you know how this story ends. The World of Darkness ended and was replaced by another, which didn't totally end production, but slipped into a much more obscure status after White Wolf was sold off to CCP. D&D never went away, but the heady days of 3.5 definitely waned.
A lot of people talk about those years as role-playing's golden era, and I have agreed with that assertion until very recently. We are seeing an unprecedented resurgence of our beloved hobby thanks in large part to the democratization of crowd funding.
Financial risks are now much easier to take, and as a result the past few years have seen the rise of new modes of thinking about role-playing, and the systems to back up those new modes of play. One such system is the Powered by the Apocalypse system, or PbtA for short, which focuses on a very different arc of character creation, and narrative play than the games of the 90's. PbtA as well as many other modern systems put a much heavier emphasis on narrative flow and story driven action resolution as opposed to actually focusing on emulating combat dynamics through the dice system. Since PbtA has been released under the Creative Commons, it is available to independent developers, there are a
wide variety of titles
available that use the system.
Three such indie developers are currently running a Kickstarter for one of the most innovative uses of the PbtA system I have seen to date. Whitney "Strix" Beltran, Marissa Kelly, and Sarah Richardson are the developers of
Bluebeard's Bride
, and as soon as I looked at their project and their background I realized I was looking at a very special development team. Their combined development experience covers video game writing,
Scion
,
7th Sea
,
Fate Worlds
,
Velvet Glove
, and several other titles I don't have the space to list here.
Their kickstarter describes Bluebeard's Bride as an "investigatory horror" game focusing on the themes of feminine horror. Between the beauty of the work they have shared already on their campaign page, and the incredibly unique pitch I knew I wanted to know more about this game, so I contacted Magpie Games to see if they would be willing to share a little bit more about what they are creating with this project. Marissa Kelly, and Sarah Richardson graciously agreed to share some of their thoughts below: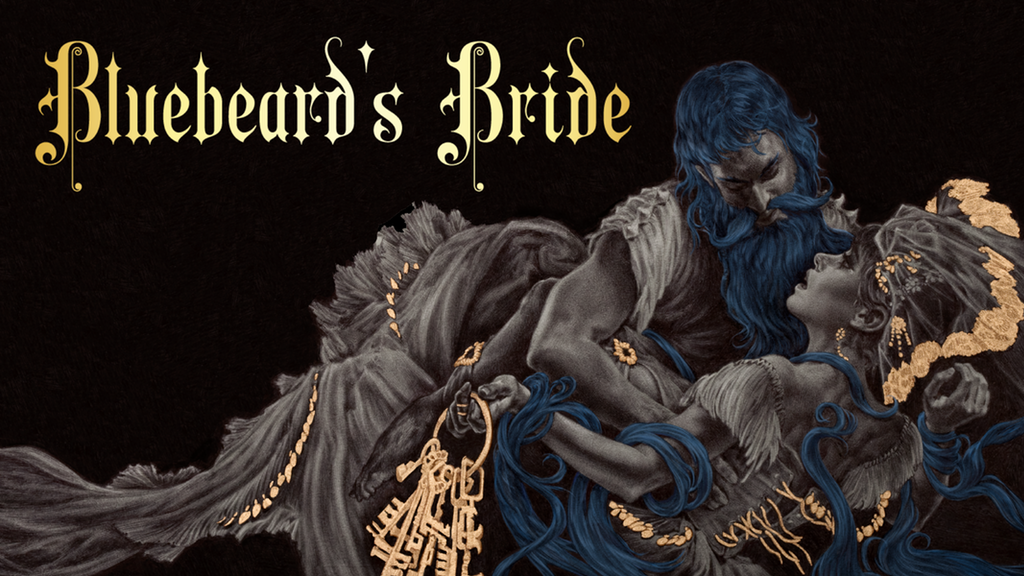 -Thank you very much for taking the time for this interview. Could you give some background on where the idea for Bluebeard's Bride came from and what drew each of you to the fairy tale the game is based on?
Sarah: Strix & I met at a Hacking for Women workshop at GenCon 2014 where Marissa was our coach. We'd never actually met before, but when we sat down to talk about what kind of game to make, Strix asked me if I liked fairy tales. 😀
MK: Like Sarah said, they had the idea to make a dark fairytale game and it was my job to jump in and help show how it could fit into the PBtA framework. So, I listened to their crazy cool concepts and showed them how they could represent them mechanically.
– On the Bluebeard's Bride kickstarter page the game is described as an "investigatory horror roleplaying game". Can you talk a little bit about what this means, and what drew you to this particular format?
Sarah: In the fairy tale, the Bride is encouraged to explore the house with that one forbidden room as a lure to violate boundaries. Having the players investigate each room, with that uncertainty of what they may find, is this really nice symmetry.
MK: The rooms of a haunted house provide a beautiful holding environment for a horror game. In a genre like this things can escalate quickly, but we wanted the game to reflect the fairy tale. And that fairy tale has an ending, so investigating whether or not Bluebeard loves you is a great way to keep the game fun and suspenseful without letting it run away from having an ending.
– The Kickstarter makes a mention of feminine horror, and in previous interviews you've invoked this theme in varying degrees of depth. What do you mean by feminine horror and how you explore it in the game?
Sarah: In this specific context, feminine horror revolves around the life experiences of women. So you're playing as a woman, and some of the horrors you encounter in the house are more commonly associated with women: enduring pain in order to be beautiful, the aftermath of sexual violence, denial of actual lived experiences, just to name a few.
MK: Feminine horror generally explores tropes and experiences commonly associated with a women and the fears that keep them up at night. In this game, we explore lack of character agency by limiting the options the Bride has when engaging her surroundings and reminding the Bride how society views her, which then undermines how she thinks of herself.
– I see varying emphasis in horror RPGs on navigating boundaries with players before you begin play. You mention safety in the FAQ on the Kickstarter page. How much time do you devote to this topic in the game text, and what game experiences from your own lives have shaped your views on negotiating narrative boundaries in gaming?
Sarah: I've gotten to the point where I give each individual player an X card. I want to make sure they use it! We talk about it in both the player chapters and GM chapters in the book, but people need to recognize that they're playing a horror game.
As far as my own experiences go, I play a lot of games with strangers at conventions. This has given me a lot of time to evaluate how I personally feel when different things come up, and to watch other people try to navigate that for themselves. And while I've found my limits on some subjects, overall I've been impressed with the level of trust people give each other in games.
MK: For me, it is important to mention that while the game works at conventions with a table full of strangers, it really sings when you play with a group of friends who know and trust one another. I go through a lot more safety talk with a table of people I don't know than I do with my home group.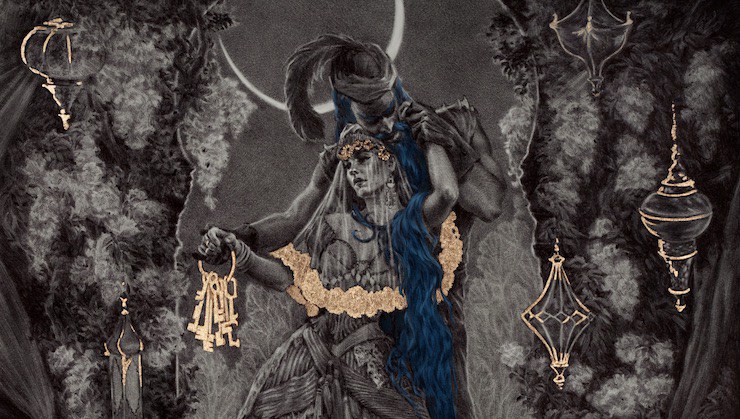 – There was a lot of discussion around the first season of Jessica Jones about how the show dealt with some of the same themes Bluebeard's Bride invokes, but specifically held back from showing graphic scenes related to the themes of sexual abuse and trauma on screen. In several reviews this restraint was called out and celebrated. In watching the playthrough videos on your kickstarter page, Bluebeard's Bride dives into this subject matter much more directly. What do you think is the value, as well as the risk of tackling these themes with fewer filters?
Sarah: I loved Jessica Jones, and really appreciated how they handled that. I would say, though, that having these experiences show up more directly is a difference of medium. So if you and I are sitting at a table together, we're able to talk through trauma in a very open, personal way that you can't do with TV, and the X card is there to make sure you can feel comfortable doing that. You can stop a TV show if it goes too far for you, but in Bluebeard's Bride you can press up against boundaries without going over and still finish the story.
MK: Kilgrave was an amazing representation of some of the themes we explore in the game. I agree with Sarah, that the medium and the audience is an important difference to keep in mind, but I think we are going down a similar analogous road to Jessica Jones. We rely on the horrors in the house to represent threats rather than BE the threats. Sure, in Bluebeard's Bride the ghost might lash out and physically hurt you, but the WHY matters a whole lot more. After all, you cannot exit a room without discovering what happened, to who, and why.
– The Kickstarter has obviously funded well beyond its goal and at this point has swept past several stretch goals. Have you talked about any future projects based on Bluebeard's Bride or in a similar narrative vein given the positive response to this project?
Sarah: Horror is something that I love consuming, from movies to books to comics. I am really looking forward to working on our stretch goals, and so I'm sure this isn't the last time horror or fairy tales will creep into my work.
MK: I am, and will always be, a fan of horror, so I see myself exploring that more in the future. We have also bitten off quite a bit for Bluebeard's Bride with this kickstarter, so I am focused on making these rewards as amazing as possible before committing to any more awesome ideas, but I am excited to see what doors may have opened.

– I have to ask for a few game teasers. Could you each tell me what one thing from Bluebeard's Bride you enjoyed developing the most and are most excited to see player reactions to?
Sarah: I love the Room Threats, and using the keys as inspiration for each room. I particularly love describing the details that make up each room when I'm GMing, from the way light catches the fall of fabric making up the curtains of an old bed, or the smell of leather and tobacco that permeates a study, or the way the colors from a stained glass window play against a wooden floor, and having moments of beauty that interact with the horror in memorable ways.
MK: I think the player moves sheet (Maiden, Ring, and Exit moves) have provided me with the most satisfaction in design. They are core to the rest of the game's functionality and I have loved the challenge. The move Shiver from Fear has to be my favorite mechanic in play and I can't wait to see players creeping out their friends with it. 🙂

Thank you all so much and good luck on finishing what looks like it's going to be a very robust Bluebeard's Bride game line. The kickstarter for Bluebeard's Bride ends on November 20th. There are other interviews and several play through videos posted on the Bluebeard's Bride campaign page that I highly recommend checking out.
Victor Kinzer has been roleplaying since he first picked up Vampire Dark Ages in high school. He nabbed it as soon as it was released (he might have been lusting after other Vampire books for a while at that point) and hasn't looked back since. He role plays his way through the vast and treacherous waters of north Chicago, and is hacking away at the next great cyberpunk saga at http://redcircuitry.blogspot.com/. He is an occasional guest on Tempus Tenebrarum (https://www.youtube.com/channel/UCvNp2le5EGWW5jY0lQ9G39Q/feed), and is working to get in on the con game master circuit. During the rest of his life he works in Research Compliance IT, which might inform more of his World of Darkness storylines than he readily admits.