Social Contract 4: Who will be running the game if a Game Master (GM) is needed?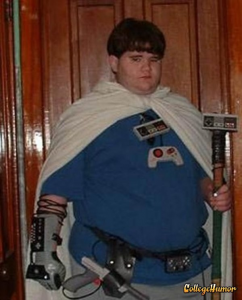 Welcome back, once again! This week the topic is all about that very important job. The job that not everyone wants to do. The one that for some people is shrouded in mystery and veiled by a screen. Of course, this is the role of the esteemed GM or Game Master. However, whether you refer to them as DM, GM, Storyteller, Judge, or any of the other long list of names it all comes down to the same thing. They run the game for the group. From setting up the plot, creating interesting situations on the fly, to not flipping out when things go off the road, the GM is a role with many hats.
Of course, that is, if a GM is even needed for your game. In these days GMless games are gaining in popularity and merit a look as well.
So, this week we shall break down what one is really getting themselves into when they sign on to be a GM, from a one-shot, to a campaign. As with other weeks I will intersperse examples in italics. Looking over the duties of a GM, what all is really needed? What exactly does this position entail?
Judge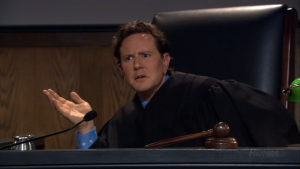 Like the esteemed Judge Reinhold , the GM must make quick and fair decisions on the fly with a strong regard for the rules.
This doesn't mean they have to know all of the rules and I will tell you a little GM secret, listen closely now, we don't know all the rules.
We don't and that is okay. However, we DO need to understand them enough to interpret situations as they arise. Interpreting dice rolls and understanding WHEN to call for rolls is a large portion of a GM's roll (ha!). This will be largely influenced by the game being ran.
D&D has a different way of handling things then say, Burning Wheel. In D&D, by the book will tell you that you need to roll for just about everything, if there is a CHANCE for failure. However, with that in mind, this works well for the D20 engine and that is an important thing to keep in mind. Many times I have heard the following conversation from groups:
I don't like game X because it uses the X system and that system is bad.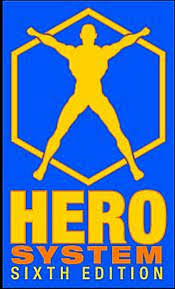 This is a very basic way of determining if a system is good or bad. Look, I personally am not a fan of Hero System
That is MY personal preference. However, I can APPRECIATE what it does. With six editions under its utility belt it does what it does well and has a rabid fan base. The system allows you to create just about any kind of character you can think of. That is its goal, and in that, IT SUCCEEDS!
Why the short diatribe on this? Because, from a GM standpoint it helps to run a game you overall understand and feel comfortable with, as well as making sure it is something you ENJOY! When you enjoy a game, learning the rules and helping others to understand the rules will be easy. You will enjoy teaching the game to the group and that enthusiasm will show in the game in other ways as well.
So, know the rules. Use the rules. Know when not to use the rules, as well.
For some groups part of the first session (besides character creation) is going over the basic concepts for the game, usually rules and setting.
My friend Metal put together a powerpoint presentation for our group to go over and explain Hero System as none of us had ever played it, or even looked at it before. This allowed us all to understand how to make a character and get used to the game system.
So again, know the rules in depth. Not all of them. You never will, and that is okay, however, know them and understand them enough so that you can use them and discard them as needed.
Gameworld
Aside from knowing the rules, the GM will have to create the world and situations the players encounter. Some games have established settings and some don't. This is really your first question. Will you run a pre-printed setting/module, run your own game within the established setting, or run your own setting all together?
This question isn't really as daunting as it may at first seem. From a creative standpoint you will know if a published adventure or settings grips your imagination or if the rules make your imagination swim with possibilities.  In either case, the GM needs to make the world feel real and tangible to the players. They make the PC's the center point of the story and have their actions produce consequences that will affect the world they inhabit.
This short section helped us setup the next, which is time spent prepping the game.
Prepping for the game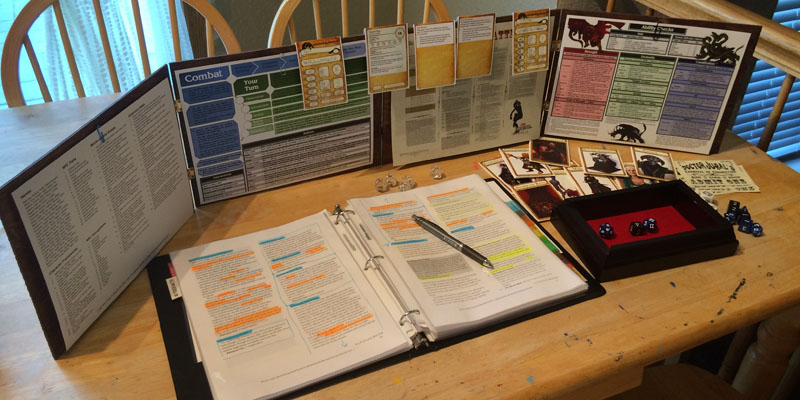 You have decided on the date, the time, the place, the game, the world, and spent time reading and learning the rules. Now you need to get the plot outlined and ready to run the game. How much is too much?
Let's discuss that, shall we?
Before looking at this further I want to share something about how I prep for a game. I do this to show one way of doing things. There is no right or wrong way. Find what works for you and use it. For me it starts with the end; more specifically, a scene. I take that scene and figure out how to use it in a game. I then work backward from there. From that scene, I look for a good theme and mood to apply to the whole game.
The mood and theme help me to direct the story I want to tell and give me a focus to come back to once the game starts. KEEP THAT IN MIND!
NO AMOUNT OF PREP WILL SURVIVE THE PLAYERS. ALL OF YOUR HARD FRAUGHT WORK WILL COME TO NOTHING. In fact, Victor wrote about this a couple of weeks ago in his convention game write up. 
Keeping things honest here, I was the person who ran the Changeling game he mentions. I will come back to how I could have planned that better. (SORRY FOR THE FRUSTRATION ON THAT, VICTOR!). He also mentions that the Numenera game went off the rails when the GM's plan for the plot escaped them.
So, to keep this at a minimum I plan a skeleton of a plot and have certain scenes that will happen. I think of these as set pieces rather than hard and fast things that have to go off as planned.
So, really the "prep" for a game will depend on your style. Different people plan differently. Like I mentioned above, I tend to have an overall framework for the story I want to tell. This goes for convention games as well. By not over-planning, I allow the players to really engage the world, and no matter what they do, my story can continue and hopefully the players all have a grand time.
Other GMs I know will have pages and pages of story and plot, and playing will be more reminiscent of the old classic Call of Cthulhu adventures.
This is a true "railroad" game.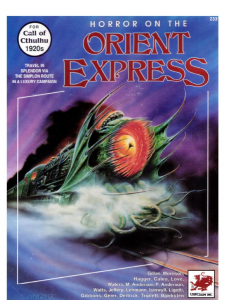 This is not a slight on CoC adventures. I LOVE Call of Cthulhu. However, it is a different game than what I normally run. Those who do run games like this have a very hard and fast plot that will happen no matter what. Players will find that they only a few real choices. Again, this is fine if that is the game your players have agreed to play.
My friend Ray ran a Star Wars game that was very much railroad in style. Now, we understood this going in, and to Ray's credit, when we asked to have more freedom as a group, he gave us that freedom. He had full on handouts and backgrounds for all the NPC's we would be interacting with, and a very detailed knowledge of the worlds we visited. It was impressive.
On the other hand; unlike my skeleton plot points and Ray's handouts, there is my friend Bob.
Bob is currently running our group through a Burning Wheel game. Bob will let an idea sit and percolate for a long time. Like a year. He will jot down notes as they come to him. From there, he will then do a character creation session to get the players roles set up for his story. With that done, his real prep is complete. The week to week prep is really just noting 4 scenes he wants to try to work into the game. It takes him all of 5 minutes. It is truly amazing to see him do it.
As you can see, these are very different ways to prep and set up a game. All of which are perfectly legitimate ways to work the GM magic. The point here is to know how much time *you* as the GM will need to put into the game from getting the basic ideas running around in your old hamster wheel onto paper and all the way to getting to that climactic showdown with the adversary and the aftermath.
So, to GM means putting in extra time and effort and keeping up with the ongoing story. It is a demanding role, to be sure. However, it is one that is also incredibly rewarding. Next week we'll wrap this whole thing up with a discussion on how to make sure the topics covered in the game are not offensive, while still being true to the theme and mood that the GM is trying to bring to the game.
As always please comment and let me know your thoughts either bad or good. Let's get a good discussion going, and of course, thanks for reading!
Scott is a true analog gamer doing everything from pen and paper RPG's to board games and everything in-between. He started out with Advanced D&D 2nd edition at the age of 10. From there he likes all genres and types, from the well known big names to smaller indie print publishers. Scott is Vice-President of The Wrecking Crew
*Note, all opinions are the opinions of their respective Authors and may not represent the opinion of the Editor or any other Author of Keep On the Heathlands.