Hey everyone!
Enjoying New Orleans and the Grand Masquerade? I know I am!
However I do plan on leaving the hotel at some point this weekend, and I figure I would share some of my interesting finds as a first time visitor to the city. I have never been here before, so all of these recommendations are just from what I could find online. There are lots of other places other than what I'm listing here, but these are the ones that seemed the most interesting and required no more than about 15 minutes of walk or trolley ride from the main hotel in most cases. Directions to any of these places can be found by a very easy Google search of the name of the shop, restaurant, attraction, or bar.
If you aren't at Grand Masquerade this weekend, consider seeking out similar places to these in your home town. Locally owned restaurants, specialty stores, museums, and other local curiosities can really be fun places to go, even in your own home town. Reach out to your other locals and find somewhere interesting to go this weekend.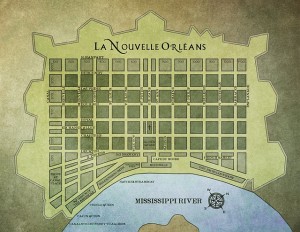 If I covered 1/4 of the French Quarter, would it be the French Sixteenth?


CASUAL FOOD:
Daisy Dukes – Open 24/7, delivery is available, they have a bit of everything, it's barely two blocks from the hotel, and it is not expensive. These people will know my name and face by the end of the weekend.
Country Flame Restaurant  – About a block and a half away, they have Mexican, Spanish, Cuban and Latin American food, and they deliver.
Merchant – This coffee shop is close, about two blocks away. They serve fresh made in front of you crepes and good coffee, as well as some sparkling bottled natural fruit drinks.
Addiction Coffee House – This was a tie for the closest coffee shop I could find, less than 2 blocks from the hotel, and it doesn't seem any more expensive than Starbucks, and it's local blends.
Jimmy J's – NOT Jimmy John's, but a tiny little cafe about three blocks away. A good place to pop in for snacks or a full blown meal.
The Ruby Slipper Cafe  –  Open for breakfast and lunch about 3 to 4 blocks away, this will be a good place to trek to for an omelette as that seems to be their specialty.
Salt n' Pepper – About a 5 minute walk away, here is the Indian place for all of you. I am a bit of a spice wimp so Indian food is not for me, but I know so many people who like it that I found a place just for them.
Mona Lisa – About a mile from the hotel, Mona Lisa is a moderately priced Italian joint. I'm not a big Italian food fan, but this place also makes custom pizzas so really anyone can eat here as long as you're not avoiding carbs.
Angeli – About 15 minutes away, Angeli does delivery as well as is open until 2am for all of us vampires in the area.
Croissant D'or Patisserie – 15 minutes away by trolley, this one is a cute little bakery and it's open at 6am, so those of you who stay up all night can pop out for a quick snack before sleeping all day.
UPSCALE DINING:
Galatoire's 33 Bar & Steak – This one is only a bit more than a block away, an American style steakhouse. Dinner jackets required for men, this place looks very fancy. Ventrue only.
Cafe Giovanni – 3 blocks from the hotel, this is the upscale italian joint for the trip. Vampire the Masquerade players will appreciate the name of the business for sure, and sometimes there are even opera singers in the lounge. Be sure to dress appropriately in business casual, like a good Giovanni.
Broussard's – An upscale French and Creole style restaurant located about 3 blocks from the hotel. This place will serve nice upscale versions of what you would consider local New Orleans fare.  You will need to make reservations, and dinner jackets are preferred.
Attiki Bar and Grill – 5 Minutes from the hotel, this Mediterranean seemed very interesting. They have a full hookah bar and sometimes feature belly dancers. They are open until 4am, so have fun being a well dressed (business casual) night owl here.
El Gato Negro – About 15 minutes away, this is the fancy Mexican restaurant for all the Lasombra out there, they make fresh guacamole at your table and have a ton of gluten free and vegetarian options, so if you have dietary restrictions and want to go eat fancy, this is a good place for you. Business casual dress, so no jeans here.
SHOPS:
Boutique du Vampyre – This was an amazing Google find. It's all vampire themed accessories, props, jewelry, and more. It looks so amazing, and it's only half a mile from the hotel. I am definitely going there before my big game on Friday to do last minute shopping.
Southern Candymakers – This one is about half a mile from the hotel. It's one of those candy shops you see in most tourist towns, but if you're like me you have a need to go in these places when you are on vacation. I personally am curious about their sweet potato candy.
Papier Plume Stationary – A little over half a mile away near the VooDoo Museum, this place carries lots of stationary tools. Interested in getting that letter writing trend started back up in the Underground Theater? This would be a good place to go. I loved that myself, and I'm hoping they carry sealing wax because I want more.
Cigar Factory New Orleans – While I don't smoke, I know that quality makes a difference, and by all accounts this place is quality. They're about half a mile away and make everything locally from what I can tell, so cigar connoisseurs enjoy yourselves.
Brass Monkey  – This one is about 5 minutes away at 407 Royal Street (I included the address on this one because Google will put you in Shreveport which is a few hours away!) It's an antique kitsch shop and I am all about these. I can spend all day in here, and I'm very excited to take home a little piece of history.
French Market – Located on Jackson Square about 15 minutes away, this is an open air stall market with food, accessories, and more. There is a lot of stuff here and I'm excited to browse.
World Famous N'awlins Cafe & Spice Emporium – About 15 minutes away by trolley, this one is going to be fun. It's a small cafe and place you can buy some of the spices they would be cooking your food in, so if you order something delicious you buy the spice blend they used. I'm excited to get some new cooking spices here.
ATTRACTIONS:
Audubon Butterfly Garden – About five minutes from the hotel, this is a cute butterfly garden and insect museum. There is even the opportunity to eat a bug if you're feeling brave, which I am not.
St. Louis Cathedral – About ten minutes from the hotel, this is the oldest continually active Roman Catholic Cathedral in the US. The current one was built in 1794, but the original is 70 years older!
Irish Cultural Museum of New Orleans – Only open Friday and Saturday from 11am to 3pm, this is a museum of 200 years of Irish history in New Orleans. It's located about ten minutes from the hotel in the French Quarter.
Audubon Aquarium –  On the riverfront about 15 minutes away, this aquarium has region specific exhibits, and you get to feed parakeets! I am most excited about going here, because I love going to aquariums.
1850 House – About 15 minutes by trolley, this house is furnished with art and furnitiure from the period, the 1850 House showcases a middle class home from the most prosperous period in New Orleans History.
Jackson Square & Cafe du Monde – About 15 minutes away by trolley or walking, I only have one thing to say about it: beignets. Seriously. Jackson Square is a great place to people watch and browse the shops nearby and Cafe du Monde is famous for their coffee and their beignets.
VooDoo Museum – About 15 minutes away by walking or trolley, why would you not go to a VooDoo museum while you're in New Orleans? It's a good place to learn about why it's so popular even now and how it got that way in the first place.
Adventure Quest Laser Tag – This one is a little far from the hotel, about 15-20 minutes by car, but it is worth it if you like this kind of thing. Featuring laser tag, bumper cars, mini golf, an outdoor maze, rock climbing, and a huge arcade, if you want some family fun this is the place to go
Audubon Zoo – About a 20 minute drive away, this is a pretty neat urban zoo. Plus, if you play Pokemon, it's got around 30 pokestops!
BARS WITH LIVE MUSIC:
Carousel Bar and Lounge – It's a bar that is built onto a carousel, and it actually spins! They have live music most nights, and it's only about a block over from the hotel!
21st Amendment – Another bar with less moving parts that features live jazz most nights, and it's also only about a block away from the hotel. It's got a mobster, speakeasy vibe and is named after the amendment that introduced Prohibition.
SPECIALTY BARS:
Patrick's Bar Vin – About two blocks over from the hotel, this is a wine bar, but they do serve a few cocktails and a few beers. It's clientele is apparently mostly locals and the owner is there most nights and friendly. The tourist reviews I could find really liked the calm and inviting atmosphere.
Bourbon "O"  – This one is about a half mile away, and is located in what claims to be the most haunted hotel in New Orleans. They have a seasonal menu that changes often so it's a mystery what they will be serving when you get there!
There are a TON of other places that I didn't list on here; I didn't even cover Bourbon Street! Hopefully this gives you a fun starting point to branch out to other places and enjoy yourselves out of character this weekend as well. I look forward to seeing you all in different places around the city, if I can ever bring myself to leave Daisy Dukes, Brass Monkey or the Grand Masquerade hotel. You'll probably find me out of character at the gaming hall most of the time, losing at board games. Look for me in character at the Grand Conclave event for Underground Theater, I'll be the one wearing dragonfly jewelry and slightly ridiculous heels.
—
Anna is an avid LARPer, and on weekend when she isn't being a vampire she treks out to the woods to beat up her friends with assorted plumbing supplies and birdseed. Outside of LARP Anna is a feminist and part of the LGBTQ* community, and is the proud owner of two loving cats, and another that's kind of mean but loves her anyway (probably). She can be found on Twitter at https://twitter.com/squeenoodles