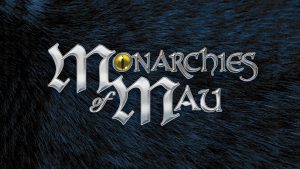 Meow? Not so long ago we did a review of Pugmire. I'm happy to report that the next setting book is currently in Kickstarter. We are also happy to report, Monarchies of Mau has already met and beat it's funding goal. To briefly describe it, Monarchies of Mau is the Cat book for the world of Pugmire. Cats, like their Dog counterparts, are uplifted animals in a far-future fantasy setting and The rules are based on 5th Edition D&D. If you'd like to learn more, the best place to do so is the Kickstarter itself.

Become a backer. Backers are awarded an early access PDF. It's a 90-page document that provides everything you'd need to jump right into the game. We should expect changes between the early access and final product, as we saw with Pugmire. I don't want to spoil anything, if you'd like to read it, become a backer. You won't be disappointed. Also, Pugmire pre-orders are also still open here. Get it. Now, that being said, it doesn't appear that you will need a copy of Pugmire to play Monarchies of Mau, so if you have no interest in dogs, feel free to enjoy being a cat person.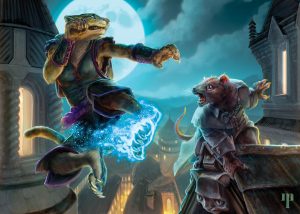 In the previous review of Pugmire, I emphasized the  goal of inclusivity that seemed built-in. Pugmire has moral grey for every culture. Neither Cats, nor Dogs, nor even Badgers are all evil, or good. The world has a vague European Medieval Fantasy overlay, but the cultures of the world are more nuanced, and there are  opportunities for the creation of decolonized game settings within Pugmire and the Monarchies of Mau.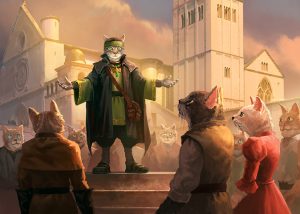 I reached out to ask a question of Eddy Webb, the creator and principal author for Pugmire and Monarchies of Mau. Richard Thomas ( Onyx Path Publishing) also had good input. See below.
"
Can you tell us about how you have taken inclusion and diversity into consideration in the development process for the world of Pugmire and Mau? 
I knew early on that I wanted to be as inclusive as possible, so all my friends could feel welcome in the world of Pugmire and Mau. My early attempts defaulted a little too much to common fantasy tropes, when I could do better. So, after a lot of discussion and debate with various friends across the diversity spectrum, I made some specific decisions. Some examples include:
There is no mechanical penalty for being disabled. It's only a factor in gameplay if the player explicitly wants it to be.
I removed all references to fantasy "races," replacing that with "species." Also, no species is explicitly "evil," to avoid perceiving a particular cultural analog as evil.
Starting with Mau, I'm making an active effort to hire more women, people of color, and LGBTQ writers and designers to contribute to the world.
Although Pugmire refers to humanity as "Man" (as part of their religious faith), I offer the alternative title of "The Old Ones," and I emphasize that title more frequently in Mau.
Pugsteady considers diversity to be a core company value, and I personally feel that diversity makes the game better!
Richard Thomas – Onyx Path Publishing
Visually, the World of Pugmire presents us with a great opportunity to design characters that don't rely on the old standards of fantasy character design, but which can be more about each individual's attitude and style. Princess Yosha is a princess because that's where she is in her life, not because she looks like a stereotypical Sleeping Beauty princess.
One of the many advantages of working together on both Pugmire and Monarchies of Mau is that Onyx Path can make available to Pugsteady our connections to a wide and diverse group of creators; everybody wins!
Let us know what you think of Monarchies of Mau and Pugmire.
Let's Level Up!
Josh
Josh is the administrator of the Inclusive Gaming Network, and the owner of this site. 
*Note, all opinions are the opinions of their respective Authors and may not represent the opinion of the Editor or any other Author of Keep On the Heathlands. Opinions may also turn out to be wrong in the future, and we are more than willing to discuss based on future information.