Can you tell us how you got into the hobby? Do you have a preference for a particular form of LARP (parlor, Boffer, etc.) What LARPs are you currently involved with? How long have you been LARPing?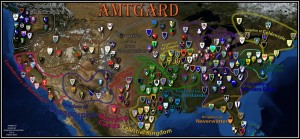 I started LARPing with Amtgard, and have always been a bit more partial to boffer games than parlor ones. About ten years ago I lived near a park where I saw people practicing one Sunday. I wasn't very good at the game, and the park only had about 10 regulars, so I got discouraged by the skill gap.
I am really fond of games that include real world skill and rules augment interactions, like when you can declare a skill usage in a tabletop RPG.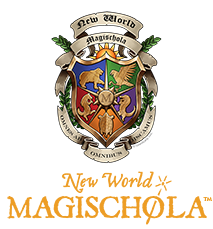 The game I was most recently involved with was New World Magischola. It was the biggest parlor style LARP I have ever been involved with. I had to save up to attend and am not sure when I will be able to afford to go back. I was a bit surprised by how much I liked the experience and would love to attend more games.
Have you ever been the LARP administrator of any sort (storyteller, Game master, etc.)? If so, can you speak to that experience some?
I have never been on staff or helped behind the scenes for a game. It kinda seems like you have to know the right people to get into a position like that.
What is your overall experience as a person of color in the LARP community?
For a long time in my life  I managed to not really notice being treated differently. Maybe it has to do with most of my family being White, which in turn meant that most of the other families I knew and therefore friends I had growing up were White too. I was the only Black person in my family, and I think that meant I was sheltered from a lot of things. As I have gotten older I tend to notice more when I am the only Black person in a room, when tropes or cliches about race are slipped into a game, or when stories use fantasy races as a stand in for real world ones to tell stories or create conflict.
That last one probably bothers me the most, because it turns something that still happens today into  "fun." I always get a bit unsettled when a player slips and starts smiling in the middle of what should be a tense or scary scene where they are playing up their characters hate or anger at a fantasy race. I have seen that kind of face on people in real life on people who are aggressing on me who know I can't do anything about it. It ALWAYS breaks immersion for me, it always takes me out of the game head-space. I wish it didn't come up as much as it does, but there is always that one person who likes to play the simple and lazy "bad guy" who "hates all" members of any specific fantasy race.
In your opinion, what can LARPers do as a community to be more inclusive?
I am not sure there is an easy answer about how to be more inclusive. There are a lot of little things that can add up. Always being open to criticism is one. Far too often I see discussions about problematic parts of a game turn into witch hunts. Speaking up is often treated as an attack on the people who play or the game runners. Th backlash makes even starting the conversations hard.
Not using non-humans as an example of how diverse a game is would be another. If you have to point to the people with pointy ears, the ones with fur, or the ones with green skin to show diversity? Something is off.
Finally, less fixation on "realism" for games that aren't historical reenactments. The moment that we start playing games, we start using mechanics an rules to shortcut reality. We rarely eat unless it is a long game, we treat bathroom spaces as out of bounds, we use numbers and flags to represent health… The idea that races and by extension race-based conflict and violence are needed for "realism" is a common idea, and one that leads to a lot of shortcuts with writing or thinking about how a game's reality would be shaped.  If we could start imaging worlds where races exist, but maybe racism didn't or no longer does? Maybe that idea wouldn't seem so far fetched in the one anymore.
Is there anything you've seen in LARP that you wish you would never see happen again?
Yes. I have been lucky enough to not have seen much personally. The worst was when my race and feelings about a subject out-of-game were used to make a joke in-game that was way bigger and more complicated than it should have been.  I am not sure what was in the head of the person who start the gag, but in the end multiple staff and players were roped into the joke. The worst part was that I didn't "get it." My wife got unsettled by what she thought was someone being malicious and poking at us. She start crying, I sat her down away from game and told her she was probably jumping at shadows.
I told her that and then dragged her back into the game. She was still bothered and we ended up leaving the game about an hour later. We only found out about the joke after game was over. Someone reached out to ask about why we had left, and they asked about a part of the joke I had missed. I had been handed an in-game item, and read what it did while missing the name. As upset as the whole thing made my wife, the way that the people involved closed ranks about it afterward was worse. Staff shut us out of the discussion, I don't think I had ever felt like so much of an outsider among people I thought were friends before.
If you could add one thing to the LARPs you were involved in, what would it be?
More talk out-of-game about the serious topics people play with in-game. I think LARP has the great potential to teach us of let us explore things that would be a lot harder to talk about in our everyday lives. It doesn't just happen on its own though, we need to actually work to let it do that. If we treat LARP as only a game, instead of the art or medium that it really is? Then that is all it will ever be. I would love to be able to talk about some of the things I struggle with in real life, and be able to use game as a shared experience that helps others relate.