We are in the golden age of gaming, and if you ask me, we are on the cusp of a LARP explosion. Blockbuster LARP like New World Magischola, Convention of Thorns, and new moves by Disney to create immersive experiences offer a chance to LARP to almost every person and interest level. And of course, the great LARP systems and game communities that have existed for the last few decades haven't really gone anywhere either. If you want to LARP, there are more options than ever to do so. Sidereal Sanctuaries is a new modern urban fantasy LARP created by Jessica Karels (founder, Hidden Parlor) and Jason Kobett. Both are LARP veterans and they are bringing a lot of amazing experience with them to their new creation.
Before we discuss the game, I want to highlight they are running an Alpha Playtest in Minnesota on August 6th, and they will be running Alpha play-tests throughout the rest of the year in the Minneapolis-St. Paul area.
Here are 5 key points about the setting and rules.
Technology is broken – something happened at the end of 2012 that forever broke the Internet / digital data transfer / networking.  The machines that continue to work aren't always reliable.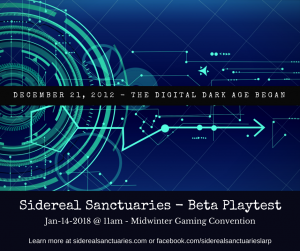 Social progress stagnates (and in some cases goes backwards) – Without the Internet, civil rights activists have a harder time organizing and drawing attention to non-local issues. Most mainstream people, already frazzled by their lives changing, put up blinders towards the problems of those who fall outside their immediate social sphere. Corporations gain a tighter hold on media channels and dictate the narrative (the one that makes the most $).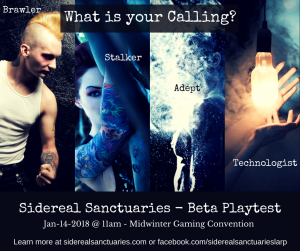 It's revealed just how much "history" has been altered – In the fictional setting of Sidereal Sanctuaries, it's revealed that technology and establishing reality are the results of a deal mankind made with various cosmic forces eons ago. Part of that deal included a clause that said cosmic forces would send out enforcers in the event that mankind didn't fulfill their end of the bargain. These enforcers (called Remnants) have attempted to fix humanity's mistakes throughout history. Their reward? – The ones who look most human get remembered/elevated in history and the ones who don't get hunted and their stories are turned into myths and stories about "monsters".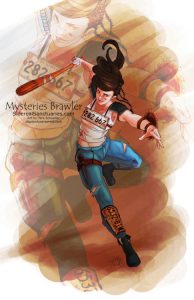 The "monsters" are protagonists who just want to exist – In Sidereal Sanctuaries, player-characters are Remnants (the supernatural enforcers I mentioned) who are hunted from the moment that their supernatural side manifests. They congregate in places that are supernaturally protected from non-Remnants (called Sanctuaries) where they learn how to work together (mostly) and how to deal with a mix of both supernatural and mundane issues.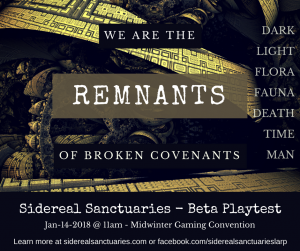 Tethers: This is a concept inspired by Infection from DR, which gives you a certain # of lives, and Humanity from VtM which makes a character appear less "human" as their Humanity rating decreases.  In the system being designed, Tether is your lives + merit pool. You can create a plain character and endure more lethal situations, or you can buy up merits and go down in a blaze of glory sooner.
Representation matters to the creators of Sideral Sanctuaries, and they've written a great blog post on the topic. This design from the beginning will hopefully encourage players to participate and build the shared experience in an inclusive and holistic way. This idea as a core element is encouraging, and we are going to keep close eyes on this project as it gains legs. Let us know what you think about the concepts presented here!