Anyone who has ever been part of a subculture knows the bright red sting of controversy.  Sometimes the controversy is low stakes like the general fan rejection of Dungeons & Dragons 4th edition. Sometimes controversies go to the core of a community's values like the ongoing controversy about whitewashing in Hollywood, and more specifically, to the likely interests of this blog's readers, the continuing whitewashing of Asian characters by Marvel comics.
Boycotts
Over the years I've seen a number of calls for boycotts over these types of issues, and I've wondered how useful this tactic is.  Recently, I've heard similar calls within the role-playing community over a variety of events that have been litigated enough in the public square that I'd rather not discuss them here, but I do think it's worth talking about the broader concept of "boycotting" work, especially work in a tightly integrated media landscape like the role-playing industry.
While many people find the idea of a dramatic boycott satisfying, how we make day to day media consumption choices within our hobby and why those choices may or may not have an impact on the industry has the potential to be a much more productive conversation.  Think of it like going on a binge diet, or trying to make long term adjustments to the way you promote health through food choices.  Binge diets do more harm than good, but holistically training yourself to eat in a healthy manner one step at a time is a path to healthy consumption habits. The same thing applies to the commercial choices we make.
Does that work for RPGs?
Role-playing games are unusual media beasts in a lot of ways.  With the exception of Dungeons and Dragons, which is in the hands of a wholly owned subsidiary of Hasbro, RPGs are generally produced by small companies, and in many cases aren't produced by their IP owners.  The majority of new White Wolf games are produced by Onyx Path Studios, or By Night Studios.  Chill is produced under license by Growling Door Games.  Shadowrun is produced under license by Catalyst Studios.  While there are also plenty of titles being produced that aren't under license, several of the biggest names in RPGs are developed in this manner.  This complicates any situation where you want to use your economic activity to influence the behavior of a corporation, because it often puts you in a position where you may well be punishing a company you feel behaves in an exemplary manner for the behavior of an only vaguely involved IP owner.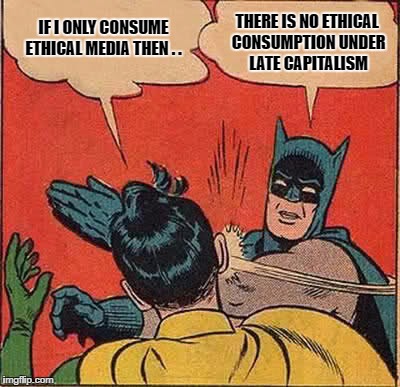 So first let's address the elephant in the room.  Trying to influence companies through consumption patterns gets a really bad rap because in many cases it's a lost cause. Ethical consumption is all too often reduced to a marketing opportunity.  Free  Range and/or Pasture Raised chicken, Fair Trade Coffee and Chocolate, and any variety of attempts to patronize kinder, gentler, more labor friendly corporations tend to fall apart upon particularly close inspection.  It takes such massive bad press to impact the bottom line of most big companies that being seen as ethical is at best a matter of appearance and branding for most companies. So the question becomes, why bother?
Ethics?
Setting aside the issues with ethical consumption of non-media products, and even ethical consumption of AAA media, the situation is a little bit different in the world of the RPG. No matter what behavior you want to promote in the industry, it's fair to say our dollars count for a lot more to a company selling a product like Numenera that had a mere 4,658 backers on its original Kickstarter, or even moreso, a game like Chill that had 793 backers on its original Kickstarter, than Kellog or Dell.  Losing a handful of customers hits most RPG producers in a way it just doesn't hit the other companies we tend to give our money.
The impact of of our economic choices is amplified for those of us who choose to run games, as opposed to just play in them.  I'm going to be dropping cash on Exalted Charm cards in the near future because a close friend of mine chose to run Exalted and I want to have those cards during game. So, he has effectively made a sale for OPP without spending any money by running that game, and some of my fellow players may follow suit once my cards arrive. The question that has been nagging at the back of my mind is, given the influence we have, what choices will have the most positive impact on our hobby, and how should we interact with those who make different decisions?
Making a Difference
The first question is in many ways easier to answer, though it is far from simple.  The most significant way we can make a difference with the gaming money we spend is by focusing on supporting the creators and narratives we want to see flourish in the world.  Unlike consumption of things like food where we may or may not have the economic affluence to afford the most "ethical" options out there, the money we spend on RPGs is by its very nature disposable and we are not lessened by devoting some of that money to more experimental and inclusive media.  That might mean supporting something entirely new but somewhat traditional, like Ehdrighor because it dramatically expands the potential of big book role playing games, it might be supporting something completely experimental like Bluebeard's Bride, or it might be supporting a company producing for an established product line telling inclusive stories in a more nuanced way than their lines have been known for in the past. Conscious engagement with these choices help us shape the gaming industry we will enjoy in the future, albeit in small ways.

The other question I posed above is a more difficult one to tackle.  In the past couple months I've seen several people upset at events in our community make personal decisions about who they would and would not give their money to and then openly shame others for making different choices.  Often those different choices were well thought out, and a reflection of different ethical priorities.  These choices were not based on willful ignorance or ethical laziness, and even if they were I have yet to see shaming someone for not sharing one's values change a mind or even inspire greater thoughtfulness on an issue.  I feel that as our hobby grows there is a vital place for discussing our values and who we want to be as a community. While we will never be a monolith, that discourse is a vital part the growth of any community, and with events like the inclusion of game writers in the SFWA, and White Wolf pushing to produce more mainstream World of Darkness related media there is no question that we are growing. We can expect to face several of the same problems other fandoms have struggled with as they have moved out of obscurity and farther into the mainstream.  
Balancing Act
As that happens, it is important to engage with other fans who are thinking about these dynamics in good faith in the spirit of discourse, and not as though they are an enemy. Many people make an unfortunately meager livelihood producing the games we all love so much, and part of our ethical calculus should be the collateral damage of saying we're going to pull back from supporting a given IP owner and every company that licenses from them.  Some people will care more about drawing a line in the sand based on corporate actions, others will care much more deeply about that collateral damage, and neither group is necessarily wrong.  If we choose to try to effect change through the media we consume then we should try to be aware of the good and ill caused by all our choices, and recognize that the choice to try to effect change through consumption is imperfect, and opinions on its validity will vary.  We should all go forth and be ready to be the change we want in the world, but know our view on that process is not a monolith, much like our community.