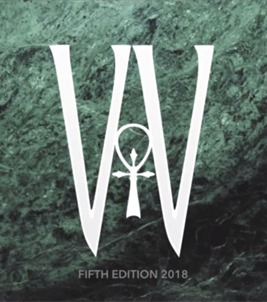 Yesterday we saw the first releases of content from the new White Wolf. Like expected, they tackle some heavy themes. Though I'm only a chapter into the Mage The Ascension: Refuge, I'm enjoying the setting of modern day Sweden and the refugee crisis that is impacting that country. We'll do a full review of that piece of interactive fiction soon, and I'm already impressed. Both of these games are called preludes, and the style of story should be familiar to many RPG fans. These are introductory stories for new characters being brought into the World of Darkness. White Wolf is  slowly peeling back the shadow curtain, giving us a glimpse into their vision for the One World of Darkness.
All images used are from the game and are the property of White Wolf and our use of them here is simply to help those on the fence decide if they will purchase the product, or not.
Vampires
This is a review of Vampire The Masquerade: We Eat Blood or All Our Friends are Dead. The first thing that hit me was the art style. I'm not art critic, but the image style helped sell this game to me. There is an ambiance it provides a subtle sense of depth and horror, you seem to get a sense of the distorted perception of reality that the narrator, Case, is experiencing.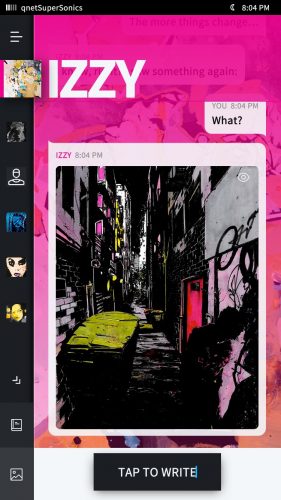 From the start, the interface for the story is a series of text messages boxes. You have choices of specific responses, much like more advanced RPG dialogue trees. Some of these responses are truncated, but many of the options are pretty clear or fully developed. This creates a surprisingly deep immersive story. You'll interact with several different individuals throughout, but you'll mostly talk with Izzy, your close friend, possibly lover (if I read some of the sub-text correctly). The texts back and forth between Izzy and Case set the the scene. You start riding a run-down bus headed from somewhere to somewhere else. There was an event that led to your embrace, but this truth is only slowly revealed through play.
My first death happened during one of the first choice sections of the story. You can choose who you will feed from, and choosing the 'goose-faced bus driver' was a terrible decision and I saw the cracked screen and blood droplets that would begin to signal a common sight for me while I was working through the story. In fact, near the end, I was dying much more frequently than not. It might have been interesting to have a few more 'fail-forward' story arcs. Of course, that requires more content as well, so there will always be limits in this format.
Themes and Story Elements
There are a lot of subtle horror elements in the story line. There are elements of body horror, images are  slightly askew, hunger and a desire to feed are described vividly, pictures on screen alter with blood during feeding, and there is a bit of splatter horror. If you make it through your first feeding, if you are successful, the story really starts. My goal is to avoid spoilers from here, but I will talk about certain elements I thought were interesting or impactful.
The setting is the United States, particularly Seattle, New York, and Los Angeles, though, at times, this feels slightly forced. This may have been due to the decisions I made, but I could easily see this story being set anywhere and it might have been interesting to leave the exact locations a bit more obscure. Some of the NPCs in the story may appear in earlier White Wolf books, I'm not sure, but there appears to be at least one Anarch character from the original LA By Night book. I'll let you determine who that is yourself.(Editor's note… I was wrong about Alonzo, not the same character.)
You Are What You Eat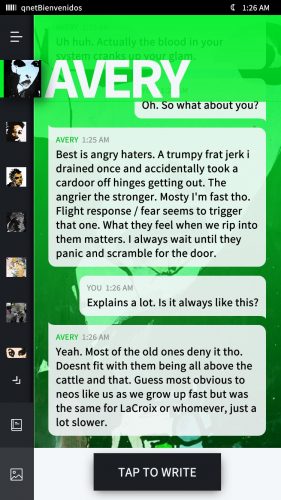 White Wolf has gone on record saying they would like to elaborate on some elements of Vampire that focus more on what the Kindred get from mortals. One way they have chosen to focus on this is to have the conditions of feeding impact the disciplines a vampire will have access to. The characters in the story reference this, and this reference is something I find intriguing. See the image below.
Elders dismiss the "You Are What You Eat," concept, which makes me wonder if there will be some form of mechanic in the 5th edition rules based on generation or on length of time as a vampire that will allow for some impact? Perhaps you'll be able to retain the ability for certain disciplines longer the older you are? This is complete conjecture, but it is an interesting idea and I'm looking forward to how it might be implemented. At the very least, it gives me some plot hooks to build into games.
The Beckoning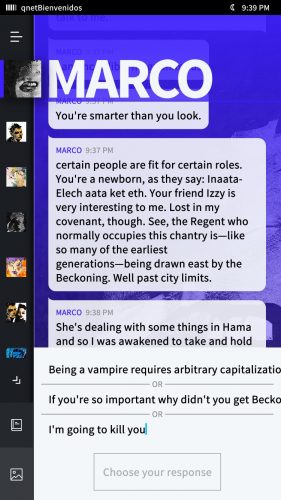 This is referenced very briefly, and may be a plot line only applicable to a specific clan. That being said… this sounds cool. Something is pulling elder vampires away from their territory leaving a power vacuum. Whatever sort of story element this offers in game, I'm excited to hear more about it. The brief reference in this story is a great hook. It's got me interested.
Masquerade Meta-Plot
Most of the early story takes place focused around Case, Izzy, and their transition into vampirism. As you dive deeper into the story, elements of the Vampire meta-plot begin filtering in. We are granted a few references to the Book of Nod, mentions of a few of the great clans, one magical one in particular, and references are made to the Anarchs. All in all, this is a prelude and we are not force fed information on the World of Darkness and this is great. This is a hint at some of the awesome story elements that we will see in 5th edition Vampire and the other new products in the One World of Darkness.
This Prelude and the Mage prelude are a great way to get reacquainted with the World of Darkness. Are you ready for it?
Vampire the Masquerade: We Eat Blood And All Our Friends Are Dead
iTunes, Play Store, Steam
$4.99
Author: Zak Sabbath
Co-Authors: Sarah Horrocks
Martin Elricsson
Music: Lola Zaza
Audio: Björn Iverson
Game Design: Martin Elricsson
Editor: Karim Muammar
Producer: Jon Svenonius
Programming: Stefan Svebeck
Art Direction: Anders Davén
Technical Artist: Staffan Norling
Josh is the administrator of the Inclusive Gaming Network, and the owner of this site. 
*Note, all opinions are the opinions of their respective Authors and may not represent the opinion of the Editor or any other Author of Keep On the Heathlands.