The misery of a year that is 2016 is drawing to a close, and as we all search the horizons of infinity for a glimmer of hope that 2017 will not takes its cues from its predecessor, it is a good time to take stock of our individual states of mind regarding our shared hobby.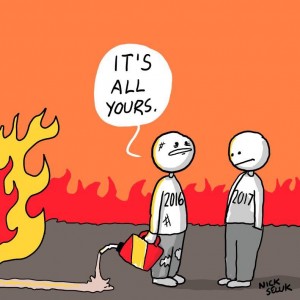 This is an exercise in self-assessment and metacognition, a study in ourselves and our reactions. I recommend undertaking this effort in a comfortable and sober state of mind, possibly discussing it with your closest gaming associates or the people who can offer you an outside perspective.
For the purposes of this article, we will be using bleed in the pejorative sense; that is, the state of getting too wrapped up in/involved with in-character (IC) issues or problems, to the point where it is negatively affecting out-of-character (OOC) quality of life. Nordic-style or play-to-bleed is another cooking vessel of aquatic life forms entirely.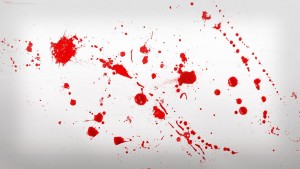 It's a Thursday night. Your local once a month LARP is Saturday. What are you feeling?
A) Woohoo, game this weekend! I'm SO ready!
B) Game is this weekend. Did I get my downtimes sent in? Better check with the ST. Where are my costumes/makeup/props?/All my stuff is packed and ready.
C)Hell, game is this weekend. What is going on, again? Did I even do my downtimes this month?
D) Dammit, game is this weekend. Do I have any good reason to go? I want to go see my friends, but I don't know if I want to actually go.
E)Game is this weekend? I'm gonna nope right the hell out of that noise.
If you answered A, please pass GO and collect your $200….unless you are ready to maliciously wreck the game for someone else. We'll get to that in a moment.
If you answered B, you're in the same boat as 90% of all the LARPers I have ever met. 5% of the remainder are super-organized and the other 5% will be panicking as they are 30 minutes late leaving for the game site.
If you answered C, you might be getting a little worn down. This might be because life is kicking your ass (and we all feel like we are wearing that Kick Me sign from time to time) or it might be because it is time to do a little self-diagnostic on your enjoyment/investment in the game.
If you answered D, you are definitely getting a little singed around the edges. Is something lacking in the game, the setting, the environment, or your gaming group, or are you/your character just in a neutral phase?
If you answered E, you may actually be burnt out or experiencing an undue amount of bleed.
A – Game is this weekend, yay!
Are you happy to be going, to be portraying your character and spending time doing something you love? If so, fantastic.
Are you happy to be going because you know you are going to be ruining someone else's plots/plans…and you're looking forward to enjoying their suffering?
The second answer is not categorically a negative one, believe it or not, as long as it is your character who is going to be enjoying wrecking another character. Part of the inclusivity of the hobby is being able to differentiate between player and character – but you knew that already, or you wouldn't be here.
This is where you check your investment – does your entire life revolve around the game? Are you okay with that state of affairs if that is the case? Do you need to take a step back and reassess your investment and involvement? Are you living for the game, or is it a fun activity you enjoy with great enthusiasm? Have fun, but keep things in perspective.
B – Game is this weekend. Did I get my downtimes sent in? Better check with the ST. Where are my costumes/makeup/props?/All my stuff is packed and ready.
As I said earlier, this is the area where 90% of the gamers of my acquaintance fall. The spectrum is basically spread out between "oh gods where is my everything" and "everything is here, in its proper place, repaired/polished/updated, and I've communicated with my DM/ST in triplicate." If you are one of the people towards the neater/more organized end of the spectrum, please write a blog post and share your witchcraft with the rest of us.
You're looking forward to the game, but you are keeping your other priorities in mind and in balance. This is a good place to be. Do you want to be more involved with the game? Do you see an opportunity for improvement, and want to help? This might be the time to reach out to your ST or DM and ask if they need any help, or let them know you are willing to volunteer.
C – Hell, game is this weekend. What is going on, again? Did I even do my downtimes this month?
This is the beginning of the singed edge. You may be going through a phase where life is interfering with your ability to game as much as you would like – and it happens to all of us. Maybe your work or class schedule changed, maybe you got involved in a new hobby that requires more time, or family/friends issues demanded priority over your gaming hobby. All of these are perfectly normal, perfectly respectable reasons to have slightly detached from the game, and a healthy, supportive gaming crew will work with you to make sure you can come back when circumstances change.
On the other hand, you might be in a low phase with your gaming experience, such as recovering from a loss of a character, or the completion of a huge storyline. This is either a recovery phase or a spot to take stock of your away-from-game commitments and responsibilities, to see if you need to reprioritize your involvement.
Have you reached a point where you are obsessing or brooding over your character's frustrations and taking them on as your own? This is a potentially toxic level of bleed, but it can be handled if you recognize it early enough to take a step back and reevaluate your level of involvement with the character. It's way, way too easy to fall into the trap of 24/7 role-play, especially in these days when it's more work to get truly away from instant communication than most folks realize – and no one wants to snub their friends because they need a break from being in character all the time. Some people end up blurring the lines between player and character, and that can be incredibly awkward, frustrating, embarrassing, and frankly psychologically damaging – the bad kind of bleed.
Alternatively, this may be the spot you are in if you are in the process of returning to an ongoing game or campaign after taking a break, voluntary or otherwise. If that is the case, I recommend speaking to your DM or ST one-on-one and getting a general feel for the game state, to see how you can best reintegrate with the group. You can also look at this spot as a chance to debut a new character and start fresh.
D – Dammit, game is this weekend. Do I have any good reason to go? I want to go see my friends, but I don't know if I want to actually go play.
If this is your feeling one random Thursday, you might just be having a bad week/month and don't have the social energy to get into character and deal with plots and connivery and such. That's cool – as a truly devoted introvert, I feel you. Stay home, cuddle your pets/sweetheart/favorite fuzzy blanket, watch TV or murder pixels or read a book. Do whatever makes you feel better.
If this happens two months in a row, it's time to reassess your involvement in the game. Have you been doing too much role-playing? Especially in an Org game, or any other avenue that can lead to 24/7 play, it can begin to feel like an endless pressure to be in character all the time, and that's exceptionally draining. Have you had an in-character crisis that has ended badly and you need to take some time to deal with the emotional fallout? That's okay too. Are you frustrated because your character can't seem to accomplish anything and you are beginning to feel like you are just going through the motions? This is a time for a calm and rational discussion with your DM or ST, which brings me to my next point.
This is going to be an unpopular statement, but hear me out – this can also be a sign that you are not a good fit for the game. There are times where personalities just do not mesh, or personal issues (and we've all got them, anyone who says otherwise is lying) prevent us from fully joining in with the game or group of people. Maybe, especially in a horror setting like Vampire or anything Lovecraftian, there are events in your own life that make the setting uncomfortable for you, despite your ardent desire to play. Maybe you are part of a group where the expectation of involvement/commitment/investment is WAY higher than you can afford, financially or temporally or emotionally.
If you have made friends in your gaming hobby (and I sincerely hope you have!) see about hanging out with them away from a gaming setting, to just BS and be friends without character sheets or dice involved. Grab a beer or a coffee or see a movie or try a new restaurant. Be friends, not only friends-who-game-together. Maybe they have some insights that can rekindle your enjoyment in the game. Maybe you'll discover that they also have a passion for watercolor paintings of bonsai or collecting esoteric cheeses – whatever your non-gaming passions are.
E – Game is this weekend? I'm gonna nope right the hell out of that noise.
You're as burned as Anakin Skywalker after the duel on Mustafar.
This is where communication – and for the sake of clarity, I am going to reiterate that all of this is meant to be taken and performed out of character – is truly crucial. If literally everyone in your game is having a fantastic time, constantly and consistently, and you always feel like your own experience is lacking, TALK TO YOUR FELLOW PLAYERS AND YOUR DM/ST. Ask them, away from game and in a neutral setting, if there is something that needs to change about your playstyle, or if there is a fundamental misunderstanding about a key part of the game that you have missed, or if you joined the game with X expectations and are seeing Y results.
Part of being a responsible, emotionally mature, and informed player is realizing that sometimes the problems are not external, but internal. Sometimes, players just do not fit, and it's unfair to the rest of the group to consistently be asking them to bend to your will and preferences. Want to do a fade-to-black (FTB) when a scene is getting too intense? I am 100% right there with you and will speak up for you if I see you getting uncomfortable. Invoke FTB every single time heightened emotions get involved? I will be less sympathetic.
What it comes down to is this – if you have left multiple game sessions with headaches and grumbles, truly having not enjoyed yourself, and you have reached out to try to make things better and not seen any improvement, maybe you need to reconsider if you are a good fit for the game. It is a sign of maturity and good self-awareness to realize when, despite best intentions, something is just not going to work. Like the old commercial said, "Know When To Say When."
I will leave you all with this final thought –
We're all part of this hobby, one giant dysfunctional family, and there's always going to be situations that make us uncomfortable, people we don't like, and constraints that we have to work around – be they psychological, financial, temporal, or otherwise – but we're all here to play a game, and those challenges can actually strengthen us as people.
The biggest difference between our giant dysfunctional family and the other type is that you can always choose to walk away from this family if you realize it's no longer the right one for you. We will miss you, but there's always a seat at the table if you decide to come back.
2016 has been a bitch of a year. Let's make 2017 our bitch.
In loving memory of Carrie Fisher, everyone's favorite Princess,
May the Force be with you!
Georgia is a fervent convert to being a gamer, having come to the gaming world later than most. She is a diehard World of Warcraft player, an enthusiastic Vampire: the Masquerade LARPer, and a neophyte player of Exalted, 3rd Edition. The game that solidified her love of tabletop games was a legendary Star Wars: Saga Edition game that consumed most of her life for three years and provided an introduction to her husband. When she is not throwing dice or murdering pixels, she is often found working on her urban fantasy novel, cooking anything that does not resist being thrown into the pot, and attempting to make a living as a freelance editor. She lives in Tacoma, Washington, with her husband and feline overlords. She can be contacted through Facebook via her page, In Exquisite Detail.
*Note, all opinions are the opinions of their respective Authors and may not represent the opinion of the Editor or any other Author of Keep On the Heathlands.