So now, after looking at Chainmail, we'll take a look at 1st edition AD&D. Here, we see a departure from the simple and basic rules found in Chainmail and white box D&D. Here we see a detailed magic system with a more extensive spell list.
1st edition AD&D had a detailed and odd way of providing spells. This is because the rules printed in the Player's Handbook only give part of the rules for granting spells. The other half is listed in the Dungeon Master's Guide. Nowadays this is a moot point, as you can get both books at the same time. However, when they were first released the Player's Handbook was put out a year before the Dungeon Master's Guide.
In fact, the first AD&D supplement put out was the Monster Manual which was released in 1977, with the Player's Handbook following in 1978, and the Dungeon Master's Guide finally in 1979.
So, as mentioned in the PH (Player's Handbook) a magic users ability to learn a spell was based on their Intelligence (INT) score. Your INT would determine your % chance to learn a spell.My group? We would roll on the list and any spells in which we passed the percentage to learn roll we would mark those in our books as spells we HAD THE POSSIBILITY of learning, if we came upon them during the course of the game.
Thus, we would go down the list and roll to see what spells we knew. If we didn't pass any rolls we didn't get to know that spell. As we understood the rules, our minds could not comprehend the spell or grasp the intricacies of a spell. Once in awhile a DM would be "nice" and allow us to roll through again if we didn't meet the minimum spell number for our level.
The real issue I had was that last column above "Number of knowable spells per level Maximum". I didn't like this. Why? Many times I would be rolling through the spell list in the PH and pass the % Chance to know Any given spell and hit my max number of spells knowable before I had finished the list. NO FAIR!
From a DM standpoint the book didn't say you had to roll them in any order and I allowed my players to roll them in any order they wished. The rules stated that the Maximum knowable was because your brain couldn't comprehend any further information. Given that magic users had to memorize the spells and copy them into their spell books, they could only keep so much in their heads.
All of this is great. One thing is never stated though: How many spells a magic user ACTUALLY STARTS WITH AT CHARACTER CREATION! Yep, again. All that rolling for spells above is just to determine if you have the ability to learn the spell, should the opportunity arise. It doesn't tell you the number of spells you would get. That information was in the DMG (Dungeon Master's Guide).
The DMG mentioned the spells a magic user would know. Four, is the number of spells a 1st level magic user knew. The first spell it stated that all magic users would know was Read Magic, as how else would you be able to cast any other spells? All other spells fell into three categories Offensive,Defensive, and Miscellaneous. A player would roll a d10 and determine randomly what spell they would know from each of these lists.
That's how you learned the spells, and of course, you would have to keep the needed components on hand and take the time to memorize each spell first thing each day. There is a sense of nostalgia looking at how this system ran. It is neat seeing how much has changed.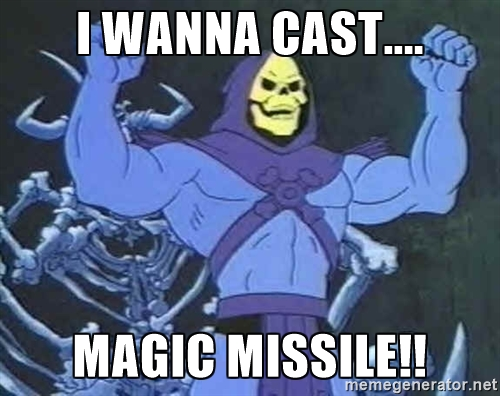 Wonderful Skeletor, we want you to cast that spell. To cast a spell you memorize the spell and use one of your spell slots. Use up the spell slot and that's it. Well, from a mechanics standpoint you have to wait the amount of time it takes to cast the spell and if there is a saving throw the defender gets to roll.
Really though that is it. It's not all that bad. Pretty straightforward really. So pro's and con's?
Pros:
Easy, once you fully understand it.
Like most versions of D&D (except 4th) magic casting has changed very little, so you know one edition, you know them all.
Cons
The clunkiness of having the spell system separated between the PH and the DMG can cause confusion.
The spell list, while not exhaustive, is not really what I would consider "open"
So, in conclusion, AD&D did a good job of having a robust magic system that did just as it was intended. The Spells were vast, and covered many different styles. Though, for me, the constant spell lists and noting the particulars did get tedious.
For what it set out to do (and still does) the D&D magic system does it very well. There is a reason why so many spells in the game are household names. It is a robust system even with it's flaws.
Many other games would emulate the groundwork laid by D&D. Even in the early years, games such as Tunnels & Trolls, Bunnies & Burrows, Traveller, and Runequest would expand the ways in which magic, in RPG's, was used.
Next week we will look at Runequest, 2nd Ed. AD&D, and the Traveler black book. Moving from the high fantasy that dominated the hobby in the early days, sci-fi finally had it's say in the medium, and it was very different, to say the least.
Scott is a true analog gamer doing everything from pen and paper RPG's to board games and everything in-between. He started out with Advanced D&D 2nd edition at the age of 10. From there he likes all genres and types, from the well known big names to smaller indie print publishers. Scott is Vice-President of The Wrecking Crew
*Note, all opinions are the opinions of their respective Authors and may not represent the opinion of the Editor or any other Author of Keep On the Heathlands.