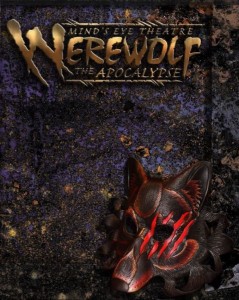 Last Thursday I received my advance PDF of Mind's Eye Theatre Werewolf: The Apocalypse, this post was informed by some preliminary reading of that book which made me happy with some of what the writers addressed. The rest of this post will not exclusively be about By Night Studios, but I want to call them out for moving things in the right direction and striving to be one of the more inclusive gaming companies on the market. I think this comes from the form of gaming in question. In some ways, LARP is an atmosphere where inclusivity, and safety, are much more present. You have larger groups, and often groups engaged in physical storytelling.
I got asked the other day what inclusivity in gaming means to me.
Inclusivity means having a game world that reflects reality in its diversity. Inclusivity means an openness to thought, to writing, to characters that walk a spectrum of identities. Inclusivity means a game culture that welcomes players and encourages them to engage in world building in a self-reflective way, but also in a way that acknowledges a plurality of vision about the purpose of gaming. Inclusivity means trying to find a way to engage, support, and empower any player that walks through the door, if their goal is to support the collaborative process.
Storytelling and gaming are essential elements of our being. When I engage in stories that challenge my perceptions, that encourage me to think, to expand, to reflect, that is what I search for. I want everyone to have that chance, to be included if they want to be included. I want anyone that picks up a book I write, or a plays a game I play, to feel like they could make that their core pastime. Collaboration requires maneuvering with, and for people. Inclusivity embraces that challenge with the goal of trying to open the door so that all people, voices, and thoughts are heard, considered, and added to the collective memory, the shared myth.
Inclusivity in gaming is a process that can start from the ground up, or, from the top down. What, in this case, do I mean by top down? I'm talking about from the game company themselves. From choosing writers, to tapping artists, all the way up to developers, a desire for and a strong commitment to inclusivity impacts their games in ways that ripple throughout their fan communities. That isn't to say the job of inclusivity is only on the developer side, but they have a role to play. (hah, no pun was intended but I'm going to keep it now I've noticed it)
Actions both subtle and obvious help to encourage an atmosphere of inclusion in a game. Let's run through a few of them.
PRONOUN USAGE: White Wolf was one of the first companies to use the female pronoun in their books. This is one of those subtle decisions that can have a huge impact. Having she sets the tone that women, just as much as men, can be the standard gender for roles in the World of Darkness. That was 1991, and a pretty big deal in that day and age. Today using she is less trendsetting, and is still powerful. At the same time, using gender neutral and gender ambiguous pronouns can indicate an attitude of acceptance of all gender identities, both for players and for characters. If reading through a book and a signature character is a 3-dimensional figure who happens to be gender queer as part of their identity, it represents some of the diversity within our world.
SAFETY AND CONSENT RULES/STANDARDS: Consent is an important part of the social contract of gaming. Players consent to sit around your table, or embody characters in LARP, and they need to continually be provided the option to opt-in or out of story elements that could hurt them as players. By Night Studios is doing well in this department, in the MET Vampire book this concept is treated with respect and given decent coverage. In Werewolf? They've done even better, pages 19-20 cover several concepts that are essential to supporting player safety and encouraging behavior that ensures it. They discuss Bleed, Personal Responsibility, Sportsmanship, and techniques of storytelling that support player comfort like Fade to Black and Time Stops. For those of us who have been around the LARP world for a while we've seen a lot of discussion on these things, and it is essential to have them front in center in a game book.
REPRESENTATIVE IMAGES: Recently Wizards of the Coast received some soft praise for having one of their signature characters be a black woman. This is good, and needs to continue. What is also praise worthy is that the character is wearing, basically, sensible armor. There is also the awesome new game, Ki Khanga which is set in a fantasy world based on Africa. Games like this, and games that incorporate honest representation are part of the process to make games more inclusive. Representation matters, just as with gender, characters with similar looks and ethnic identities to players help to give them role models. They also give players with different identities a chance to see awesome characters that do not look like them, which I believe has an impact on how people are seen in one's day to day life as well.
SUPPORT FOR PLAYERS WITH DISABILITIES: This I feel, is at times the area that we have the most opportunity for growth and development of new strategies for support. One of the concerns I've had with the newer White Wolf books is their size. These books are 500, 600, 700 pages long in one volume. I struggle to hold him in my hands and this is due to a very moderate problem with grip, probably caused from my military service. Thankfully I have pdfs and other electronic versions of these books I can read as well, but it would be amazing to have some other technology to support our gamers with other disability concerns. Some of this is built into our new devices, but that only goes so far. I'd like to hear some feedback on what sort of devices, support, or ideas could help in this area.
Here is my take-away. We are doing better as a community, partly due to the benefit of Kickstarter and other forms of crowd-funding that allow for smaller projects to get off the ground. We can do better, though. That should not be taken as a critique, just a fact, we can always do better, we can always work to be compassionate and supportive and inclusive and we should always strive to be so. What games do you think are the most inclusive? How do you ensure a sense of inclusivity in the games you create or the games you play?
Josh is the Admin@KeepontheHeathlands
*Note, all opinions are the opinions of their respective Authors and may not represent the opinion of  any other Author of Keep On the Heathlands.